A new technology-driven fitness training program, Body20, utilizes an FDA-cleared electro-muscle stimulation (EMS) suit to deliver isolated muscle vibrations coordinated with a 20-minute 1-on-1 personalized exercise program, producing incredible results in rapid time. But how does a new-to-world brand stand out in one of the most highly competitive spaces of all?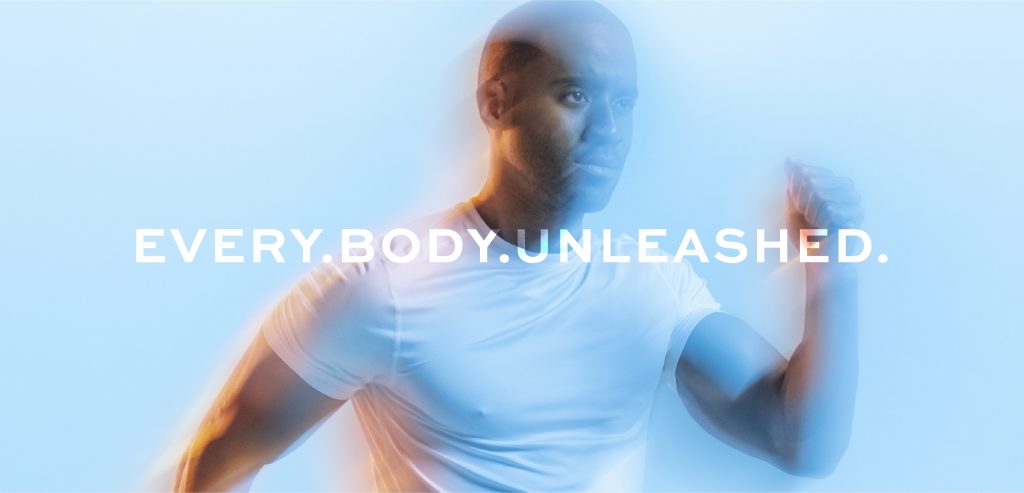 Pearlfisher partnered with Body20 to help them make a name for themselves as they expand across the U.S. by creating a visual identity system and brand world that clearly expresses the concept and benefit of the unique technology-enhanced training program for both enthusiasts and new franchisees.
Hamish Campbell, VP Executive Creative Director explains, "We exercise to look a bit better and feel a bit better. Sometimes the effects are more noticeable than others. But it's part of life. People are intrigued that Body20 distills time, but ultimately they want proof that it works. We looked to humanize the technology behind Body20 through our bold and telegraphic design to deliver emotional inspiration and validation rather than just explain the details of the exercise program and process.
We wanted to make sure we painted a picture around the idea that Body20 empowers your inner Super Human which inspired our brand strategy and essence,'EVERY.BODY.UNLEASHED' awakening a strength you didn't know you had to reveal a version of yourself you didn't think possible."
When bringing Body20 to life from a library of lifestyle photography to the identity and typography, Eric Rodriguez, Pearlfisher Senior Designer said, "We were tasked with planning and producing a proprietary photoshoot to develop an ownable style for Body20 and build an image library to assist franchisees and partners with launch and marketing activities. We art directed the photography to bring the brand to life by depicting different real-life exercise scenarios featuring two main styles:
Amplification: a visual style to demonstrate the movements used during the workout by way of multiple exposures that illustrate progressions.
Vibration: to emphasize the post-workout benefits through motion blur and secondary brand colors.
The new brand identity scheme is a modern, energized and provocative system that opens up the world of Body20 to establish its place in leading a new future of wellness."
The Body20 workout is a unique idea and proposition and needed a logo to clearly convey its power and purpose while remaining subjective and open to personal interpretation. The logo is strong and directive with a series of custom cuts connoting technical performance and efficacy with a color palette ranging from warm oranges to cool blues, to reflect the human body's reaction during and after the workout. The vibrating typography emphasizes the EMS technology and the colors also bring the amplification and the brand idea to fruition through the interior environment of the Body20 studios by taking the customer on a journey with calm blues at entry – building momentum through the changing rooms and creating an energetic workout space.
Gregory Breitbart, Body20 CEO detailed, "In just 20 minutes per week, our goal is to materially impact the other remaining minutes in the week by changing the way that people workout through time-condensed technology training. By using design to mimic the effect of the Body20 workout, Pearlfisher has created a seamless world for us that is provocative and intriguing but boldly and clearly represents our unique fitness proposition. It's modern, energized and we're ready to define a new future of fitness."
You can find a Body20 studio and book a session today in Florida, Illinois, New York, South Carolina and Texas. Additional locations across the US will be rolling out soon.
Credits:
VP, Executive Creative Director: Hamish Campbell
Pearlfisher Senior Designer: Eric Rodriqguez
PearlfisherHead of Realization: Stephen Kwartler
Pearlfisher Senior Visualizer in Design: Liviu Dimulescu, Pearlfisher Strategy Director: Caitlin Russell
Pearlfisher Client Manager: Megan Gazzetti
Source: Pearlfisher