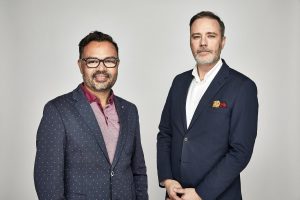 Mélanie Dunn, Cossette's Global President and CEO, announced the promotion of Peter Ignazi and Carlos Moreno to the newly created role of Global Chief Creative Officers. The pair will lead the creative vision for the agency and the creative expression of its brand in every market Cossette does business in, while supporting the company's international development beyond the 11 markets it currently serves.
"Cossette has big ambitions, and a clear creative vision is necessary to serve our clients here and abroad," said Mélanie. "Peter and Carlos's track record is second to none, and I have no doubt that both our team and our clients will thrive under their creative leadership."
The Global Chief Creative Officers will provide guidance and inspiration as they collaborate with regional creative leads to attract, develop and empower a strong team of creative directors who counsel the agency's clients every day. They will continue to oversee the creative direction of major campaigns, as they have since joining Cossette as a copywriter-art director team in 2015.
"Having a global perspective will help us give our clients a competitive edge. We'll provide them with world-class thinking and solutions that will cut through the noise and connect with their consumers in a way that's relevant to how they live their lives," Peter explained.
"This puts us in a position to work more closely with our offices across Canada and beyond—to truly bring the power of Cossette's full integration to life," Carlos added.
Peter and Carlos have been ranked as the #1 creative directors in Canada by Strategy magazine and have twice been listed among the Top 10 in the world by The Gunn Report. From Cannes to the Effies and The FAB Awards, they have been behind award-winning work that has driven business in every category over the course of their 20-year career.
Source: Cossette