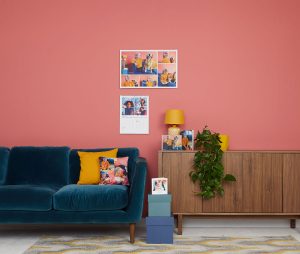 Online photo printing company, Photobox, has appointed eight&four as a creative and media agency to its select roster of agency partners. 
The agency has been appointed to support on creative and media strategy, video and digital asset production and media planning and buying in order to reach new audiences for Photobox.
eight&four's immediate remit is to drive consideration of Photobox's products in the lead up to Christmas, one of the brand's busiest periods of the year. The agency aims to enhance Photobox's presence amongst mums with younger children with a focus on building awareness that the 100's of pictures taken on your phone can easily be transformed into gifts and keepsakes.
eight&four's creative strategy will see the agency produce video content to be used for a series of pre-Christmas ad slots to raise awareness of the brand before the seasonal rush. eight&four will support this activity by managing the media buy across digital, social channels and publisher partnerships. The approach to media will be agile, with a strong test and learn element baked in.
Jo Lavender, brand and marketing director at Photobox, comments: "eight&four's ability to merge creative with media was a great match for the way our marketing team operates. The team brings a brilliant combination of clear strategic thinking and nimble creativity for our business; qualities that will significantly benefit our brand in the long term."
Amy McCulloch, MD and founder at eight&four, adds: "Photobox has given us the perfect brief. Through our response and execution, we're able to mobilise talent across our two core disciplines (creative and media) in order to drive maximum audience focus, marketing impact and efficiencies. With significant innovation across the Photobox business, it's an exciting time to come on-board."
Founded in 2000, Photobox is a European market-leader in photo-based products and serves millions of customers a year in over ten markets.
Source: eight&four