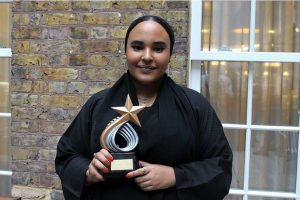 Following some fierce competition from agencies across London, RAPP UK is delighted to announce that the winner of 2018's Daniel Marks Planning Academy, Diamond Abdulrahim has joined the agency as a Junior Strategist.
She was awarded the 'Strategic Star' winner last month after blowing the judges away with her winning idea on how to position Guinness to a female market.
Designed to tackle the diversity and talent shortage with planning internships, the Planning Academy shortlists 19 finalists who then go on to meet with over 40 judges and agencies involved—including the industry's most recognized chief strategy officers.
Faced with numerous offers from a number of agencies, Abdulrahim felt that RAPP was the right place for her to start her career.
"I wanted to work somewhere that gave me the freedom to think for myself and enjoy the opportunity to work with some of the UK's bravest brands. RAPP's value in reaching and celebrating Fierce Individuals was too attractive a proposition to resist," said Abdulrahim.
She finished her undergraduate degree in Human, Social and Political Science at Cambridge University earlier this year. During her education she was selected for the WPP Micro Fellowship with RARE, a charity working with people from ethnically diverse backgrounds. She since benefited from work experience with JWT, Kantar and the WPP Unilever team.
Caroline Parkes, Head of Strategic Consulting at RAPP said "Diamond is a breath of fresh air – not only in her approach to planning but in her passion for creative thinking. She's also a brave strategist, making her a great fit for our agency."
Taking part in Daniel Mark's Planning Academy is part of RAPP's ongoing commitment to achieving a more diverse and inclusive top-talent workforce.
Source: RAPP UK