A new research from luxury digital agency VERB, which explores the purchase behaviour of affluent consumers, and the rapid changes currently being experienced by the luxury sector, as it navigates Covid-19. The research confirms the pressing need for luxury brands to digitally mature in order to survive, by catering to customers' fast-changing needs.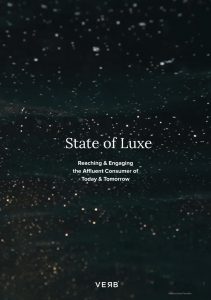 The research, which underpins a new 'State of Luxe' whitepaper from VERB, suggests the emergence of three distinct tribes with contrasting drivers for purchasing from their preferred luxury brands. The tribes are formed from data based on their digital advocacy , and how they value luxury. They consist of the 'Traditional Luxury Consumer', a tribe which subverts preconceptions on demographics and preferred purchase journey, Digitally Disconnected laggards, and the Luxury Advocate, an evolving source of new customers for brands online.
In partnership with GWI, and with contribution from TikTok, VERB surveyed over 1000 affluent people in the UK and USA across a balanced response group for gender and age. Notable findings, explored in-depth in the whitepaper, include that even in a skin-deep Instagram age of showing off the finer things, the value of luxury is seen as more than glitz and labels. Three quarters of those surveyed cite intrinsic quality as defining what luxury is today. Four in ten (38.2%) feel it's experience. Surprisingly, given the aspirational appeal of luxury labels, less than a fifth feel brand prestige or exclusivity (both 18%) is a defining quality of modern luxury. Even amongst the affluent consumers polled, only 16 per cent said they typically buy higher end products and services, with the main drivers being as treats for themselves (70%) or gifts (43%).
Analysis of the data suggests the three broad tribes of customers which marketers should be aware of, as each has fundamentally different senses of what they expect from luxury brands online, and where they expect to get it. These tribes are explored at length in the whitepaper, but can be summarised, from least to most digitally literate:
The Digitally Disconnected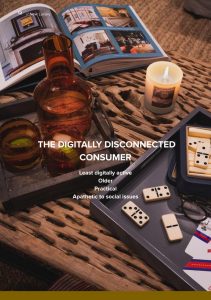 51 per cent of affluent consumers in our study told us they don't follow luxury brands on social media, and they make up our first Digitally Disconnected. 25 per cent of this group aren't on social media of any kind. Marketers should be especially aware of the 21 per cent who told us this was because they didn't find the content useful in any way. They're unsurprisingly on average the older contingent of shoppers, 80 per cent of this group being over 35 years old, and skew male (57% to 43%). For marketers, with shops shut around the world, this group of less digitally-minded prospects and customers need to be reached with a mix of display, digital out-of-home and a tailored use of the owned channels this group can be reached through, whether content on a brand's website that replicates the carousel content of social media, or email marketing that outlines the specific benefits and value of following them on social media.
The 'Traditional' Luxury Consumer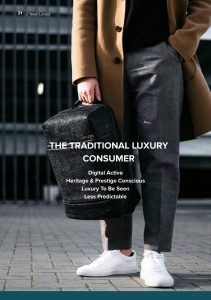 This tribe is made up of those who cited the timeless luxury notions of quality, brand prestige and higher price points as to what defines luxury. Brand marketers may assume that old fashioned attitudes underpin old fashioned consumer behaviour – but the new research shows that may not be the case. Not only is this tribe – made up of those who cited the timeless notions of quality, prestige and high price points as what defined luxury – a balanced mix of young and old, it's also more active digitally than marketers might assume, 71 per cent of this group said they had visited a brand's website recently. The challenge for marketers, therefore, is in creating the same quality of experience online as they'd receive in-store, but enhanced with digital. For example, sharing exclusive content, first or early access, or rewarding VIPs with personalised discounts such as free delivery. A sizable 45 per cent of this tribe said a loyalty scheme would be a purchase driver, which might have seemed unthinkable for a luxury brand until recently.
The Luxury Advocates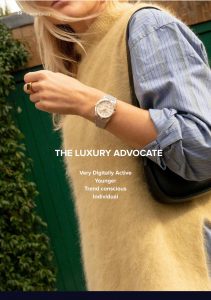 48 per cent of those surveyed were already following a luxury brand on social media, and 61 per cent of these consumers were under 40. They're the digitally native, luxury advocates who despite an affinity with luxury, won't advocate for brands that don't fit their ideals and sense of identity. Of the three tribes, they're also the most likely to buy luxury items just to suit their mood (21 per cent). Their research considerations also seem more skin-deep than the other tribes, with a fifth using social media, not known for its product detail, as part of their active research to make a luxury purchase. Yet their expectations from brands are high – with the strongest affinity for brands that demonstrate strong social values and the highest willingness to pay more to those brands that do. This is also the only tribe with any substantial reaction to influencers – with 15 per cent saying the main reason they follow luxury brands on social is owing to influencer or celebrity involvement. The difficulty for marketers is that this emergent, younger customer will respond strongest to brands' steer and values in order to convert their enthusiasm into sales.
Commenting on the whitepaper, Chris Donnelly, Founder and CEO, VERB Brands said, "The three tribes we've identified are a great starting point and framework for luxury marketers – but it's clear action is urgently needed. Our research shows that customers' digital advocacy varies wildly amongst affluent consumers, with significant repercussions on how luxury marketers should reach different audiences. However, in response to the pandemic, luxury brands are having to simultaneously rapidly accelerate their digital capabilities and face changing customer needs and potentially without the advantage of customer data which many mainstream and digital-first brands have.
"Luxury brands have to make 2021 the year they prioritise getting the 1st party data they need to properly understand who their customers are. Without this, brands are leaving themselves exposed to wasted spend and further difficulty when stricter consumer privacy on platforms comes into play. Detailed audience segmentation, tailored and engaging content, and strategic investment in every relevant platform might, until recently, have been considered nice-to-haves by luxury marketers. Now, they're the bare minimum of what brands need to be investing in. With a minority of affluent consumers following luxury brands on social media, and some suggesting they don't use it at all, brands need to speak to customers on their terms and with content that resonates with their different needs and values. This is simply the expectation. There is no one-size-fits-all, but understanding digital advocacy is a good start."
The whitepaper can be downloaded via this link.
Source: VERB