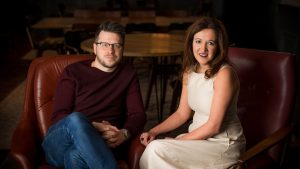 Saatchi & Saatchi London has promoted Sam Hawkey and Larissa Vince to the roles of chief operating officer and managing director respectively.
Sam, who has been promoted from managing director, will lead the agency's vision and direction, and have responsibility for its commercial performance.
Larissa has been promoted from chief growth officer, and will continue to lead growth and new business with a particular responsibility for culture and talent.
Both will continue to run senior client relationships across the agency's client base, which includes EE, Direct Line, Britvic, Visa and Deutsche Telekom, Expedia Inc and Kerry Foods.
The pair will form part of a London leadership team comprising Richard Huntington, the London chairman and chief strategy officer, and a soon-to-be-announced London chief creative officer.
The team will continue to report to global president, Magnus Djaba and together, will focus on delivering an outstanding agency culture, as well as creative, commercial and new business performance.
Danny Josephs, the current COO of Saatchi & Saatchi London, is leaving to pursue new opportunities.
Magnus Djaba, global president of Saatchi & Saatchi, said: "As a Spurs fan I know what it's like to have a superstar who is one of your own. Sam is definitely that. For Larissa, I couldn't be more proud. Our secret weapon is now not so secret."
Source: Saatchi & Saatchi London