When Samsung approached Leo Burnett Israel with a brief to promote their new Anti-Tangle vacuum, the agency thought about all kinds of people that might benefit from a technology that makes certain long hairs do not get entwined in the vacuum's turbine – thereby neutralising it.
But from hippies, Rapunzels and Princess Leias of the world, conversation quickly turned to other hair-abundant creatures and came to rest on pets. But what could possibly connect between pets and vacuums?
After some research Leo Burnett discovered that while 17% of people refuse to adopt a pet because of the hair they shed, 37% could be persuaded to adopt one if the hair issue was solved. So they decided to do just that.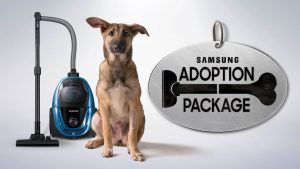 So in cooperation with the country's leading Pet Shelter "Let Animals Live", Samsung gave people the opportunity to adopt a pet and get a free Samsung Vacuum with advanced Anti-Tangle Technology that prevents it from clogging up with hair and fur.
Credits:
Agency: Leo Burnett Israel
Chief Executive Officer: Adam Polachek
Chief Creative Officer: Ami Alush
Chief Strategy Officer: Shai Nissenboim
Chief Account Officer: Idit Zukerman
Creative Concept: Meital Miller, Oren Ben Naim
Account Supervisor: Ziv Abuhazira
Account Executive: Shir Yefet
Producer Manager: Menny Zarhia
Graphic Team: Shlomi Amir, Oren Bar
Strategic Planner: Liz Stull
Marcom: Eva Hasson
Source: Leo Burnett Israel