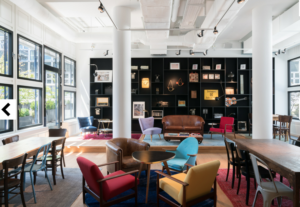 For the first time, a hospitality group and an agency group are joining forces to create a communal working space in Germany. RUBY and the Serviceplan Group are launching a joint venture with their inaugural co-working space. The hotspot for creative and innovative work will be opened in December 2017 in a historic office building in Hamburg.
How do companies today manage to implement digital transformation projects quickly and efficiently as well as implement a start-up culture or openness to change? With the concept of the 'House of Communication', the Serviceplan Group has always had the idea of creating open market places and knowledge transfer in the various specialist fields. And the global agency group is constantly thinking about changes to work processes.
The RUBY Group, from Munich, are also a pioneers in the field of new work. Their co-working spaces, called RUBY WORKS, fully address the diverse requirements of "Work 4.0" This also means being able to rent on a project-by-project basis with entire teams and then discovering everything from the "War Room" to the "Deep Dive" quiet working areas, which are very important for project success today.
"Our idea is to work with RUBY to provide companies with easy access to inspiring working environments for dynamic project management. They can be flexibly reserved, depending on the project scope, length and team size." explains Ronald Focken, Managing Director of the Serviceplan Group.
Because a sense of belonging is part of Work 4.0., at RUBY WORKS, instead of the usual coffee machines, there are proper co-cooking and co-dining areas, along with patio seating. "Cooking and eating together makes it easier to develop a community," explains Michael Struck, founder and CEO of the RUBY Group.
As an additional target group, as well as the typical co-working fixed tenants, RUBY WORKS also targets business travellers, who can also make reservations at RUBY WORKS on a day-by-day basis; fast and easy online, just like with hotels. It is therefore of no surprise that the co-working spaces are within walking distance of the RUBY boutique hotels. This way, travellers can book everything from one company. Ronald Focken says: "We think the link with hotels is great, i.e. the close proximity with a working method that often means international, temporary teams!"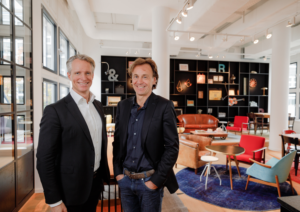 Just like the RUBY hotels, the RUBY WORKS co-working spaces are individually designed and locally established: from the reception and lounge areas furnished with vintage furniture to the event program, the associated blog and city guide. "Our guests or members are looking for places with character and spirit and appreciate the local flavour", illustrates Michael Struck.
By concentrating on the essentials – an intelligent design and lean organisation – the work spaces remain affordable: from €345 per work station per month, day bookings from €15. Synergies with hotels also helps, for example in overlapping functional areas of sales, cleaning and technical maintenance.
"We combine the expertise from two worlds, both from the communication and the hospitality industries," explains Ronald Focken. "We, RUBY and Serviceplan, are both working on the practical implementation of the future of working and are constantly learning from one another in order to successfully develop together". For example, in the online community services field, the joint venture partners are planning joint product developments.
The first RUBY WORKS of the joint venture will be launched in December 2017 in a historical office building in Steinhöft 9 in Hamburg, not far from the RUBY LOTTI hotel which will open in mid-2018, directly on Stadthausbrücke. There will be a total of 194 working stations on approx. 1,600 square meters. The new co-working areas are integrated into the adjoining house of communication and are therefore immediate neighbours of the Hamburg Serviceplan branch. "Our aim is to be able to better integrate other qualifications that we will need more of in the future – in the freelancer market or even from small companies," explains Ronald Focken.
Other joint RUBY WORKS are planned for after the launch in Hamburg, including in Cologne and Vienna, which will also be in the immediate vicinity of the local Serviceplan branches. The cooperation also creates spatial flexibility at the Serviceplan Group locations.
Source: Ruby Works