Celebrating a shared passion for the craft of music, Sizzer partners up with Goodhouse and Downtown for the Originators Tour. The Originators will bring three breakthrough artists to three major cities – London, Berlin, and Paris – introducing the sound of the future to the creative industry and beyond.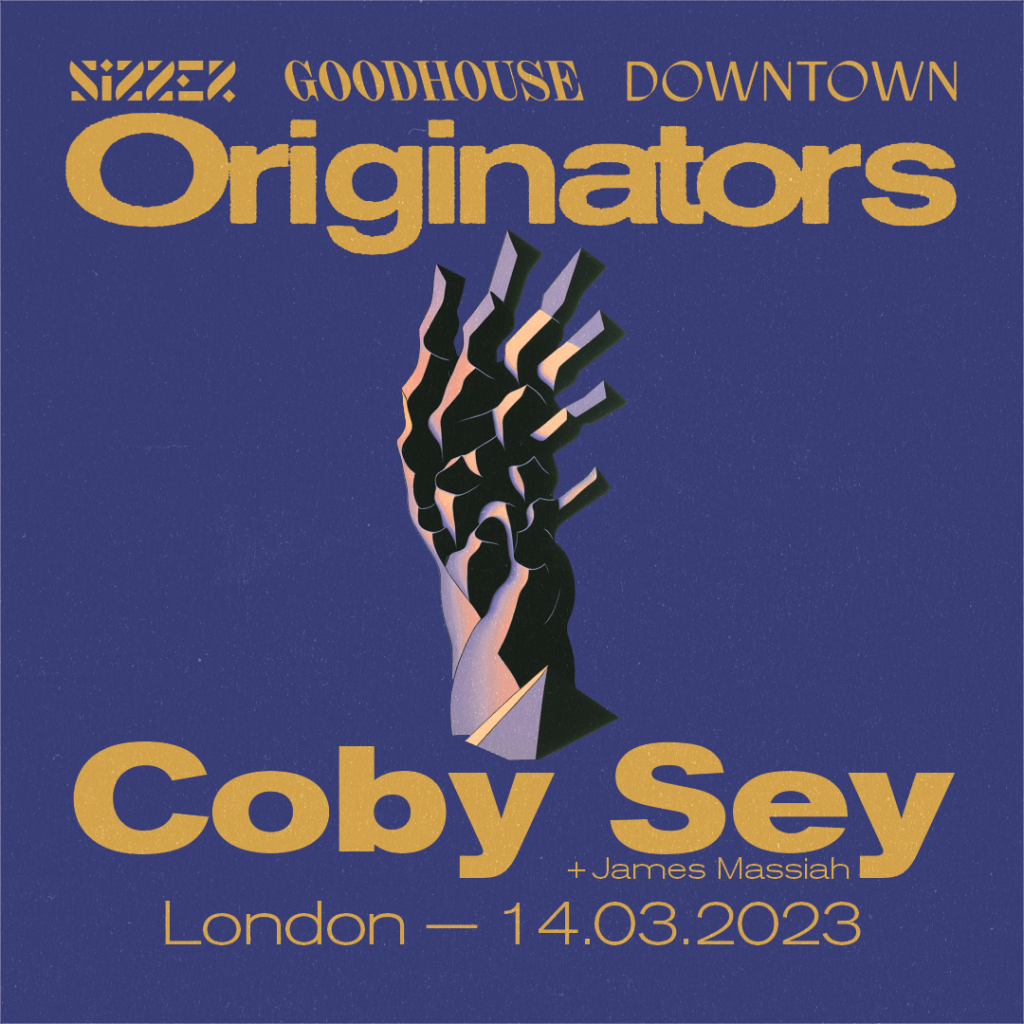 Amsterdam-based independent music agency Sizzer is joining forces with production company Goodhouse and the global music company Downtown in inviting the creative industry to discover new music acts shaping future culture on the upcoming 'Originators Tour'. The tour is set to take place in March, April and May, with the first confirmed show featuring Coby Sey, taking place in London at EartH Kitchen on March 14th. Sey's distinctive presence as a performer and producer offers a shifting, disorienting vision of club music fleshed out by live instrumentation.
The groundbreaking event will offer the creative industries a chance to hear the sounds of tomorrow through a handpicked group of breakthrough artists, chosen for their cultural impact and cutting-edge work. The artists will appear in a series of gigs over the spring period in London, Berlin, and Paris. With exclusive access for the ad industry, the invite-only shows will be supported with short portraits made by Goodhouse of each of the participating acts.
Leveraging Sizzer's previous experience in organising one-off events such as The Berlin Pop-Up and Faux Pax in Cannes during the Cannes Lions Festival of Creativity, the Originators Tour will be a unique new breed of showcase. Three up-and-coming acts will take the mic in each city in front of key music supervisors, production companies, agency creatives, directors, and brand executives, in a bid to spotlight the culture-shifting potential of exceptional music.
Sizzer's Brand Manager Dion Holla says: "At Sizzer, we like to do things differently. As the saying goes, 'Craft is what we are expected to know; art is the unexpected use of our craft', and with this tour, our aim is to create something genuinely unexpected. The Originators is so much more than a cool line up and a fun party: it's a chance to discover exceptional new artists who are changing the agenda through cutting-edge musicality."
With Coby Sey the first confirmed act for a show in London on March 14th, the initial Originators Tour will include a further two shows in Berlin and Paris, with the possibility to extend in the future.
"We believe great music has the power to make brands relevant in today's society," Holla added. "By shining a spotlight on these up-and-coming talents, we're giving everyone in the creative world a sneak peek into the potential of music to shift culture and help brands reach elusive audiences. Roll on our very first tour!"
Following a series of collaborations with Tirzah, Mica Levi, Dean Blunt, and Klein – Coby Sey's solo career came into sharp focus with the 2022 release of his critically acclaimed debut album Conduit through AD93. Coby's open-door approach to sharing and making music stretches to his work with London collective CURL, who release records and host events with a collaborative, improvisatory approach. He also hosts a monthly show on NTS radio, which offers a portal into his appealingly murky musical world.
You can RSVP to the London event using this link: https://mailchi.mp/35380304f2f6/originators-london-coby-sey
Source: Goodhouse