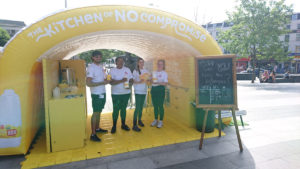 Creative agency Space has launched a new experiential campaign for Arla, the UK's largest farmer-owned dairy company, to promote the dairy brand's Arla BOB milk – the country's first yellow top bottle, introduced in 2016.
Arla BOB is the first-ever milk with the low fat of skimmed but the same taste and quality as semi-skimmed. The new campaign consists of a brand activation called the Kitchen of No Compromise, which showcases Arla BOB's great taste and health credentials.
The campaign – which will be travelling around the country from mid July – has at its heart a bright yellow pop-up installation comprising two halves: the Kitchen of Compromise and the Kitchen of No Compromise. The former is grey and home to drab skimmed milk, whereas the latter is Arla BOB's domain. The initiative activates the TVC that shows a world made Technicolor by Arla BOB and which has been so successful in encouraging purchase.
Customers will be guided through the installation where they will encounter a trialling table. Here BOB will be pitted against semi-skimmed milk. After sampling each, participants will receive a cup of tea made with Arla BOB and a 50p discount coupon to drive in-store sales. Customers who cannot make time to visit the Kitchen of No Compromise will also receive a voucher, encouraging more sales and brand awareness.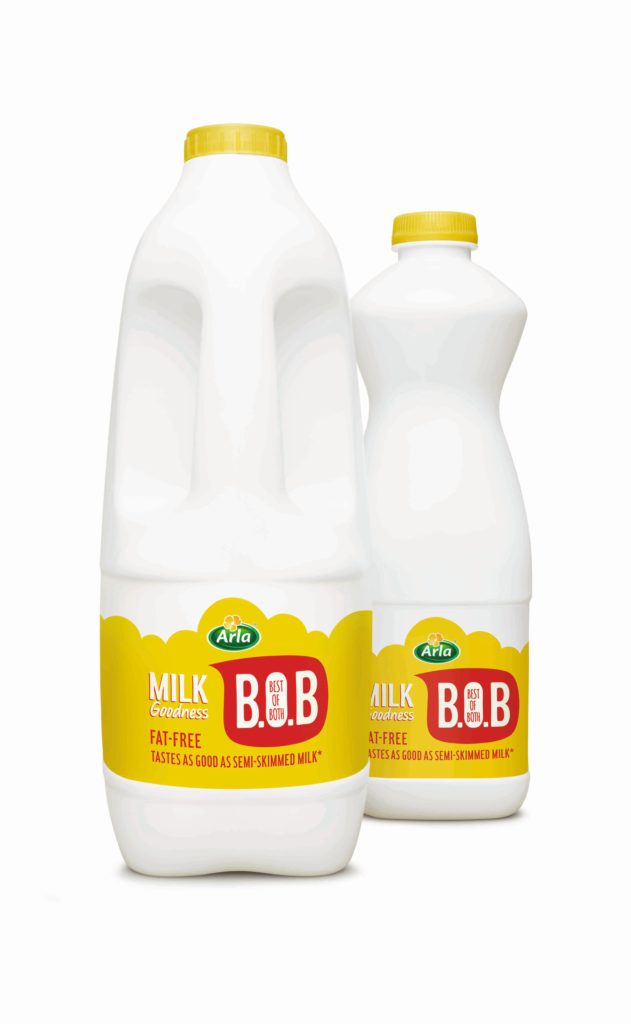 The initiative will visit 14 UK locations over the summer, setting up in town squares alongside participating Co-Op and Tesco Express stores. Customer engagement is high on the agenda for the brand, with the yellow colour scheme designed to grab shopper attention and sampling activity designed to communicate the taste and health benefits of Arla BOB as part of a daily routine.
Those who go through the Kitchen will also be given the chance to win their very own No Compromise Breakfast, – one of three very special luxury locations to enjoy breakfast – with 20 runners-up receiving a free bottle of Arla BOB. All they have to do is take a photo of themselves enjoying their favourite breakfast including Arla BOB and posting it to Arla's social media channels.
The activity will be amplified further via pre-awareness posts for each location in advance, turning areas of the map yellow. A counter will also be installed on Arla's social channels, keeping track of the number of people who Arla converts from dull skimmed milk to the world of Arla BOB, creating a glowing yellow map across the country.
Stuart Ibberson, UK category director at Arla Foods, said: "After our successful launch last year, culminating in winning Product of the Year, we wanted to spread the word even further by letting people try it for themselves. We aim to invite 1.1 million people into the Kitchen of No Compromise throughout the course of the campaign. That's a lot of milk, a lot of work and no time to waste – we can't wait to get started."
David Atkinson, managing partner at Space said: "Having worked with Arla on the launch of Arla BOB, we're thrilled to be continue to build awareness of the brand and the concept. The initial roll-out of yellow top milk was highly successful and an important category event and we're eager to capitalise on that with the Kitchen of No Compromise. Customers who missed the campaign last year will have another chance to get on-board with Arla BOB, and we hope to spread the word about a milk that has less fat, but doesn't compromise on taste."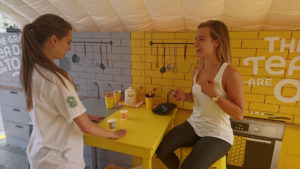 The Kitchen of No Compromise tour will visit Brighton, Wimbledon, Southampton, Leeds, Manchester, Sheffield, Birmingham, Ealing, Cardiff, Nottingham, St Albans, Leicester, Reading and Bristol.
Space already works on a number of other Arla brands and is the agency of record for BOB across social and experiential channels.
Arla BOB is the first-ever milk with the low fat of skimmed but tasting as good as semi-skimmed. It is a skimmed milk that is pasteurised, filtered and enriched with natural protein to deliver a taste and texture that's as good as semi-skimmed. Based on a process that took three years to develop, it combines traditional dairy craftsmanship with industry-first technology.
Arla BOB launched in February 2016, sitting alongside Arla Cravendale, Lurpak and Anchor within Arla's portfolio of major dairy brands.
Source: Space