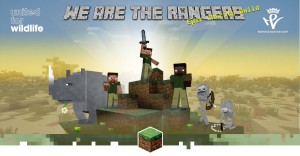 United for Wildlife (UfW), an unprecedented wildlife conservation alliance, has launched an interactive Minecraft campaign and are working with social advertising agency Telegraph Hill to connect with young people and raise awareness of the plight of endangered animals in Africa.
The 'We Are The Rangers' campaign aims to engage young digital makers aged 15-30 in creating a Minecraft adventure map based on the African Savannah. UfW and Telegraph Hill will challenge gamers to develop map components. The map will highlight the terrible dangers facing wildlife from poachers, and the rangers who are battling to protect them.
Initially, Telegraph Hill will be tasked with identifying the key influencers in this space. Then it will conduct an influencer outreach and community engagement programme through UfW's social pages. Telegraph Hill will also design and develop assets to be used by UfW as a call-to-action to boost engagement throughout the duration of the campaign.
By educating through entertainment, UfW hope to get players involved in thinking about how to develop solutions to keep the wildlife safe. The awareness-building campaign is open to everyone on any platform supported by Minecraft.
Submissions to build part of the world can be made via the website, with entries closing on June 26.
United for Wildlife (UfW) is an unprecedented alliance between seven of the world's most influential conservation organisations and the Royal Foundation of the Duke and Duchess of Cambridge and Prince Harry.
The collaboration between Conservation International (CI), Fauna & Flora International (FFI), International Union for Conservation of Nature (IUCN), The Nature Conservancy (TNC), Wildlife Conservation Society (WCS), WWF-UK, the Zoological Society of London (ZSL) and The Royal Foundation hopes to lead the way to substantially increase the global response to major conservation crises.
With the support of The Royal Foundation, UfW hopes to bring attention to acute conservation problems, the most pressing of which was agreed amongst the collaboration to be the rapid escalation of the illegal wildlife trade. This is having a devastating effect on wild populations of some of the largest and most iconic species: elephants, rhinos and tigers as well as lesser known animals such as the pangolin.
Peter Jacobs, Digital Programme Manager at The Royal Foundation said: "Minecraft and the Minecraft community are a great fit for United for Wildlife, and we hope that the young digital maker community feel that the conservation information is supplied in a fun way and they can take the idea and make it theirs as the project develops. Telegraph Hill is steeped in youth culture and knows how to drive excitement like no-one else, we know that they'll be able to raise awareness of 'We are the rangers' amongst young gamers. "
Garret Keogh, Managing Director at Telegraph Hill said: "Using a gaming platform to communicate such an important message is a great way to reach this audience. Minecraft's popularity is growing phenomenally and Telegraph Hill are excited to be raising awareness of such important issues though our work with United for Wildlife. The campaign is smart, slick, engaging and fun – it's something we know will get a lot of traction as we give young people control of the message."