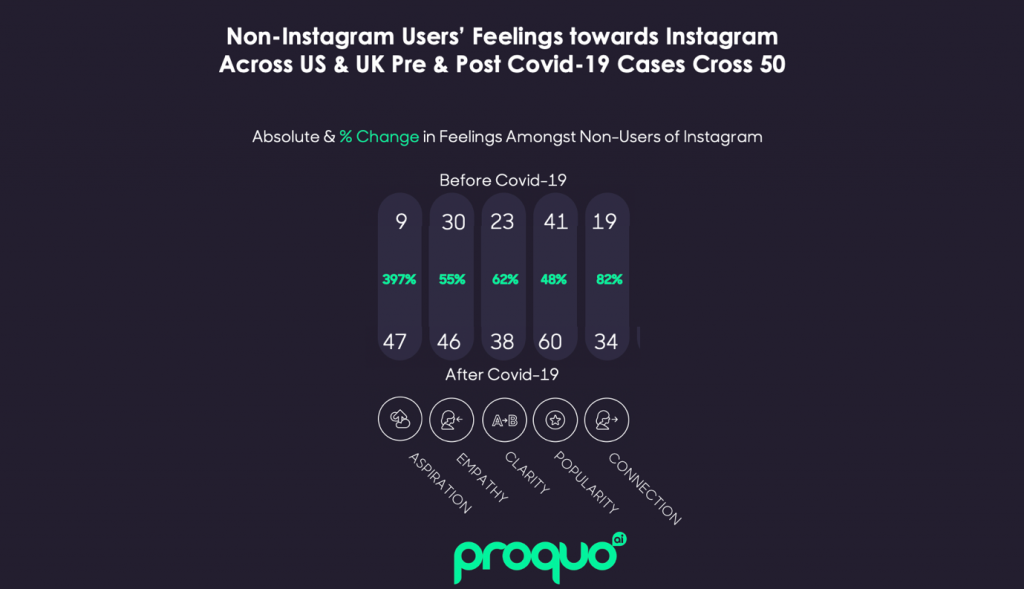 New consumer sentiment analysis shows the impact that the spread of the global Covid-19 virus is having on UK brands, from private healthcare to social media.
Private healthcare firms, such as HCA, are experiencing the most significant drop in consumer sentiment, according to data intelligence gathered by brand management agency proquo ai.
Stockpiling has seen consumers turn to new grocery brands with an increase in popularity of packaged goods, baby food and ready meal brands, such as Charlie Bigham, Pot Noodle and Kiddylicious, amongst shoppers. Meanwhile, social distancing measures have resulted in social networks like Instagram seeing a huge boost in consumer sentiment.
The proquo ai brand management platform captures how people feel and think about brands every day. This analysis looks at over 222 brands from their platform across 26 different categories before and during the spread of Covid-19. The AI-powered analysis has gathered over 1.6m expressed feelings from over 30,000 people within the UK and the US – all in the last 30 days.
HCA and private healthcare in the firing line
Private healthcare firms in the UK are seeing a big increase in negative perception amongst their current customers, according to the data. As private hospitals came under fire for reportedly planning to charge the NHS to rent their beds, HCA Healthcare's integrity score amongst customers has seen a 22% decline from March 3rd, when the government reported 50 confirmed UK Covid-19 cases.
HCA has seen downturns across most 16 'Emotional and Rational Drivers'. These Drivers, such as Connection (being easy to relate to) and Empathy (understanding people's needs at this time), are what proquo ai has proven make up the relationships people have with brands.
The loss for HCA is most notably in the Differentiation driver (-16%) and Connection (-31%). During this time of crisis, UK HCA customers don't feel the brand is trustworthy, offering anything unique, and they can't relate to the way it is behaving.
Instagram eases social distancing
As social establishments closed doors and populations were encouraged to exhibit social distancing, people rushed to socialize remotely. In the UK, Instagram has experienced an astounding 4x positive increase in perception amongst people who don't use the platform.
Most notably in the UK, since March 3rd, non-users have found Instagram more understanding of their needs (Empathy +55%); easier to relate to (Connection +82%); more popular (Popularity +48%); and clearer in the role the brand plays in their lives (Clarity +62%).
Similarly, in the US, Instagram has seen an astounding 166% positive increase in public perception– also most notably amongst people who don't use the platform but are active on other social media.
Instagram has seen its popularity scores amongst people not currently using the network shoot up by 27%. They find the brand 165% more Aspirational than before Covid-19 hit. proquo ai generally sees increases in Driver scores of around 5% during national advertising campaigns, so these double digit shifts in consumer perception are unprecedented.
Stockpiling causes surge in popularity for ready meals
As families begin to enter a lockdown period, brands which have shelf-life, are easily found in supermarkets and promise to provide healthy and nutritious snacks for babies and children are surging in popularity.
In the UK, baby food brands like Kiddylicious has seen a surge in positive consumer perception amongst people who don't currently buy their brand. Interestingly, non-users feel the brand is 13% more relevant, 11% more consistent and 13% more understanding of their needs (Empathy) than before Covid-19 cases in the UK hit the 50 mark.
Panic buying toilet paper has hit the headlines, but with possibly weeks of self-isolation ahead, people are turning to brands they wouldn't necessarily use outside of a crisis, such as packaged goods brands which can be stockpiled.
Ready-meal brand Charlie Bigham's scores a 15% increase in Relevance, driven by men. Meanwhile instant snack brand Pot Noodle sees a marked rise in Empathy (+15%), especially amongst younger people aged 18-24. This same age group also finds Ginsters, the hot snacks brand, 54% more Empathetic than before the crisis hit.
In the US, as panic-buying erupted in stores, especially around household staple items like milk, it is longer-shelf life dairy brands like Meyenberg Goat Milk that see dramatic rises in brand perception. Non-purchasers of Meyenberg feel 40% more empathetic to the brand and find it 12% more accessible.
Bars suffer as entertainment moves into living rooms
Entertainment and hospitality brands are feeling the impact of this crisis most notably, as social distancing measures begin to bite.
In the UK, karaoke and cocktail bars have seen steep declines in their Relevance and Accessibility scores. Karaoke bars have plummeted by 18% in Relevance and Dirty Martini sees its Accessibility score fall by 9%, following the announcement of 50 confirmed Covid-19 UK cases.
With the UK government urging people to avoid restaurants, pubs and cafes, it's expected these scores will dip even further, but that's not to say these brands cannot explore how to cater for people's needs during this time of social distancing. Drivers such as Empathy (understanding people's needs), Consistency (being reliable) and Accessibility (able to get a hold of, and use) can be achieved through virtual entertainment opportunities – for example Lucky Voice Karaoke plans to offer two weeks of online singing sessions to all new users.
Smart brands serve the ever-changing needs of consumers
This analysis proves that brands that succeed are the ones that are able to create the strongest relationship with people, even as the world changes around them. In total, there are 16 Drivers which create these relationships with people on both Emotional and Rational Levels. The ones seemingly most affected by the Covid-19 virus are Relevance, Consistency, Empathy, Differentiation, Connection and Accessibility.
Jim Brennan, Managing Director of proquo ai: "The ability for brands to maintain their reliability, to understand the needs of people, to be easily accessible and maintain connection – even through times of social distancing—will be the things which ultimately determine brand success. "And as consumers continue hunkering down in a global effort to flatten the curve, brands can be sure they'll see a positive light at the end of the tunnel so long as they continue to stay strong, tune in, and serve the ever-changing needs of people. "
COVID-19'S UNPRECEDENTED, INSTANT EFFECT ON
PEOPLE'S RELATIONSHIPS WITH BRANDS
Here we share proquo ai's findings.
Image: No. of recorded cases of Covid-19
Source: Proquo Ai