In anticipation of the upcoming holiday season, The Ohio Lottery and independent creative agency Marcus Thomas have created a new campaign titled "Add a Little Cheer," which features two nontraditional takes on typical holiday ads.
The first spot begins in a gloomy airport, where travellers are waiting for delayed flights. A woman decides to purchase lottery tickets for everyone, and Christmas lights come on as she spreads holiday cheer by passing out the tickets. Closing with the tagline, "Add a little cheer to your holidays," the spot serves as a warm reminder that lottery tickets can make a great surprise gift.
The "Holiday Overload" spot picks up at the airport where the previous spot left off, then cuts abruptly to a relaxing view of an empty beach, with several lottery tickets in the sand. A voiceover announces that the "break from holiday overload is brought to you by the season's most unexpected gift," a lottery ticket.
Marcus Thomas also produced several YouTube bumper ads that present a humorous take on traditional "Bad Gifts" and replacing them with "Good Gifts," lottery tickets.
The spots will run on local broadcast and social media channels.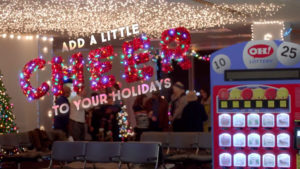 Credits:
Agency: Marcus Thomas
Chief Idea Officer: Joanne Kim
Executive Creative Director: Jamie Venorsky
Creative Director: Eric Holman
Copy Writer: Rachel Hoskins
Art Director/Designer: Megan Gannon
Management Supervisor: Debbie Pirone
Senior Freelance Producer: Michelle Snyder
Source: Marcus Thomas