Greenpeace is pushing for a ban on all pesticides that are dangerous to bees and a firm commitment to ecological farming. People and bees are in this together; it's our common struggle. That's why this time to increase pressure we want to have 250,000 signatures on the petition, and we also want to add 250,000 more signatures, signatures made by bees.
This is an ambitious joint project of Tiempo BBDO and Greenpeace Spain with the motto, "Their future is our future." This declaration of intent, for the first time ever, has the support of its most prominent protagonist, bees. Using the flight paths of bees and software designed specifically for this purpose we have gathered thousands of bee signatures.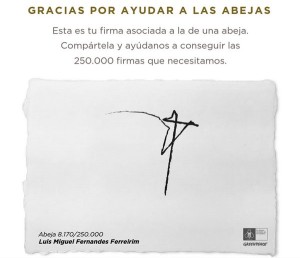 Greenpeace has worked for years to help the general public and politicians understand the importance to ecosystems and to food safety of having bees and other pollinators, promoting ecological farming as our only solution for the future. Bees play an absolutely essential role and the decline in their populations would affect 75% of the main crops in the world.
Luís Ferreirim, Greenpeace Spains Agriculture campaigner, explained the current situation, "It was in 2013, after nearly 20 years of active protests, that the European Union banned four of the pesticides most dangerous to bees, thanks partly to public pressure across Europe. However, these bans are only partial and do not apply to all uses of these pesticides. In Spain, for example, they are still being used and there are still over 300 products that are still authorized and dangerous to bees."
Using this as a point of departure, Tiempo BBDO began work on a new project to raise awareness and get people involved. They came to a conclusion, in the words of Tomás Ferrándiz, creative director, "At the heart of the matter it's not just about saving the bees, it's also about saving ourselves. You could say it's the common struggle that brings our two species together." A new challenge was born from this idea, "Is there a way to combine our efforts? Yes, there is. We came to the conclusion that the petition should also be a joint effort, that we should collect signatures not only from people, but also from the protagonists of the petition themselves, the bees, and take all of these to the Ministry of Agriculture. When bees fly, they trace an invisible line in the air, like a signature. So we decided to make this movement into something tangible, to draw it, to make it real, to make it into a signature."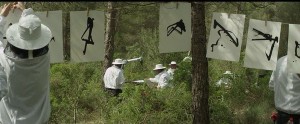 To do this, Tiempo BBDO sought the ideal partner for the project and contacted Glassworks to develop software to track the movements of the bees and convert their flight paths into a metaphor for their signatures. But then they decided to go a step further, they designed a tracking system that can follow the bees' flight paths in real-time near the hives.
Xavi's Lab, the special projects department at Glassworks, developed an application that converted key points along the bees' flight paths into elegant vectorised lines, creating their digital signatures. Xavi Tribó explained how this was done, "We came up with an application that recorded the bees in real time, that can pick out their flight paths. To do this, the application creates different points matched to each bee, assigns an identifier to each one, and then traces their flight path. After that process, the flight paths are vectorised, and using an algorithm the most aesthetically elegant forms are identified, completing the process of converting the flight paths into signatures."
This is how they were able to convert 258,531 flight paths into 250,000 signatures. Once they had verified that it could be done, to create a record of the process, the agency contacted El Cangrejo, one of the most prominent audio-visual production firms in the Barcelona scene, which joined the project and made a series of video documentaries about the project.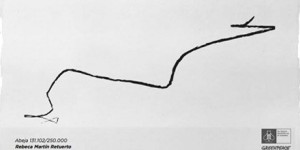 During the process, something unexpected also came up, when the team conducted the initial tests they discovered that the flight paths were miniature works of art. So they decided to select 100 of them and transfer them onto laminate. To do this, Glassworks enlisted the help of a robot arm provided by Universal Robots that painted the signatures chosen by the team with brush and ink in real time. The resulting pieces will be the second phase of the whole project that is going to be launched in the near future.
The 250,000 signatures collected will be added to people's signatures online here. Each time a person signs the petition that person's signature will be instantly matched with one of the 250,000 bee signatures. Users will then be able to get an image of both signatures to download and share on their social networks. All of the signatures will be used to create a comprehensive plan of action that will include new videos, graphics, merchandising, posters, exhibitions, and banner campaigns.
This has a single goal, to maintain and reinforce the actual bans and get Spain to establish a roadmap that will ban other equally hazardous pesticides that are currently permitted, to provide firm support for ecological farming, and to increase the land used for ecological farming to 7.6 million hectares by 2020.