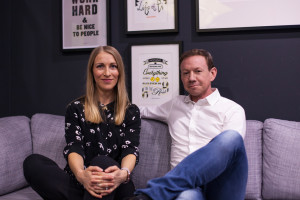 VML has promoted Chris Wood to Executive Director, Europe, and Amanda Farmer to Managing Director, London, as the agency expands its global operations.
Chris has led VML's London office for the past five years in his role as Managing Director, overseeing accounts such as Premier League, Whitbread, Xbox, Bridgestone and Virgin Active as the agency has expanded and produced award-winning campaigns.
In his new role, Chris will lead engagements with VML's global clients in Europe and continue to report to the agency's Global CEO Jon Cook.
Amanda Farmer has been promoted to become VML London's new Managing Director, responsible for furthering the agency's unique balance between creativity and technology which helps brands thrive in a digital world.
She was previously the agency's Client Services Director where she ran the Virgin Active and Xbox accounts. Prior to joining the agency, Amanda held the position of Business Director at Isobar.
Amanda will report to Jon Cook and will sit on the VML Global Leadership Team as part of her new role.
Jon Cook, Global CEO, VML, said: "As VML began to deepen our global presence six years ago, VML London was then – and remains – one of those bedrock offices at the heart of everything VML. Chris has not only been the force behind the growth of VML's brand, business and culture in London through that time, but such a critical part of how VML in London has so successfully been a source of VML global connectivity."
Cook added: "Amanda has been a dynamic force since she joined the agency and her energy and passion for what we do is unmatched. I've always appreciated and valued the way she thinks about growth, recognising that our business growth only matters if our culture and people grow. She is the perfect person to continue VML's momentum and to accelerate our presence for our clients and partners in London."