Are you finding it difficult to reverse a trailer? Then you should check out this sensational video showing a driver reversing with a trailer at an outrageously high speed. Or at least, that's what it looks like….
In fact, the Norwegian Volkswagen importer has created the video to raise awareness of its 'Trailer Assist' technology. With 'Trailer Assistant', the car will automatically reverse the trailer for you. The only thing you need to do is select reverse, press the 'Park Assist' button and use the mirror adjustment to enter the direction you want the trailer to follow.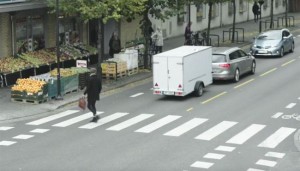 You are still responsible for gear shifting, acceleration and breaking if needed. Maybe not as easy as in the video, but it is still much easier than manoeuvring with a trailer and having to remember to steer the wheel in the opposite direction than what comes naturally.
In order to conduct the stunt they, in collaboration with TRY and Bacon Oslo, built a very special trailer. The trailer is actually a converted car with its own 1.4 litre engine, which pulls the car in the video – and not vice versa. The trailer is equipped with transparent foil so that the driver sitting in the trailer can look out, but people cannot see inside. The trailer was driven by Swedish rally driver Björn Persson, who has been featured in a number of previous advertisements.
"This is the strangest thing I have ever driven, and I have driven a lot of weird vehicles. We got a lot of curious stares during the rides" says Persson. The most difficult job, however, was driving the VW Passat that was being pulled by the trailer. This was the job of Lasse Malmjarn, another stunt driver, who was sitting with his back towards the driving direction and had to correct the effects on the turns. The video ad was shot in Lillestrom, outside of Oslo, and was in collaboration with the local police.