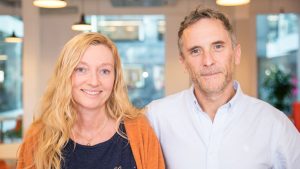 Global socially-led creative agency We Are Social has promoted Lill Skjerdal and Garrett Dearey to the newly created roles of head of delivery and head of partnerships, respectively.
Skjerdal was formerly head of production at We Are Social, where she has spent the last four years. In her new role, she will manage a team of 17 across the agency's production and resource departments, as well as taking on more involvement in its production house We Are Social Studios. She will be responsible for improving effectiveness across the business, evolving existing planning and resource processes. Skjerdal will work with all the agency's client teams and will continue to report into managing partner, Lucy Doubleday.
Dearey, previously client partner, will be focused on growing the agency's client base, as well as overseeing its marketing, communications and new business teams. He will report to UK chief executive, Jim Coleman, as part of the agency's senior management team.
Jim Coleman, UK CEO at We Are Social said: "Lill and Garrett are hugely respected and trusted across the business and have been instrumental in our growth over the last few years. These promotions allow our team and our clients to benefit from their vast experience in creating amazing socially-led creative work. These new roles reflect our growth at We Are Social. We have a thriving events business and produce in-depth industry reports and thought leadership; Garrett will be taking this to the next level. Lill will apply her extensive production expertise to our whole business, making us a more efficient and effective agency."
Lill Skjerdal, head of delivery at We Are Social added: "I know We Are Social inside out, both with regards to our people and the opportunities and challenges we face. I'm delighted to be taking on this new position, which will allow me to go beyond production to change the way we deliver work across all levels, benefiting both our clients and the agency itself."
Garrett Dearey, head of partnerships at We Are Social commented: "We Are Social has always been a fast growing, dynamic business. To continue to lead best practice in social marketing, we need to form the partnerships with the right clients and businesses. We want to help put social thinking at the centre of marketing, both through the work we do with brands and for a wider pool of marketers, through our events and thought leadership."
Source: We Are Social