This endeavor set out to create a modern and energizing employee experience for today's flexible workplace
Without, a brand design studio based in London, recently partnered with Sodexo, a global, Fortune 500 company that specializes in sustainable food and valued experiences. Without supported Sodexo's vision of reimagining Modern Recipe, one its flagship food experience brands.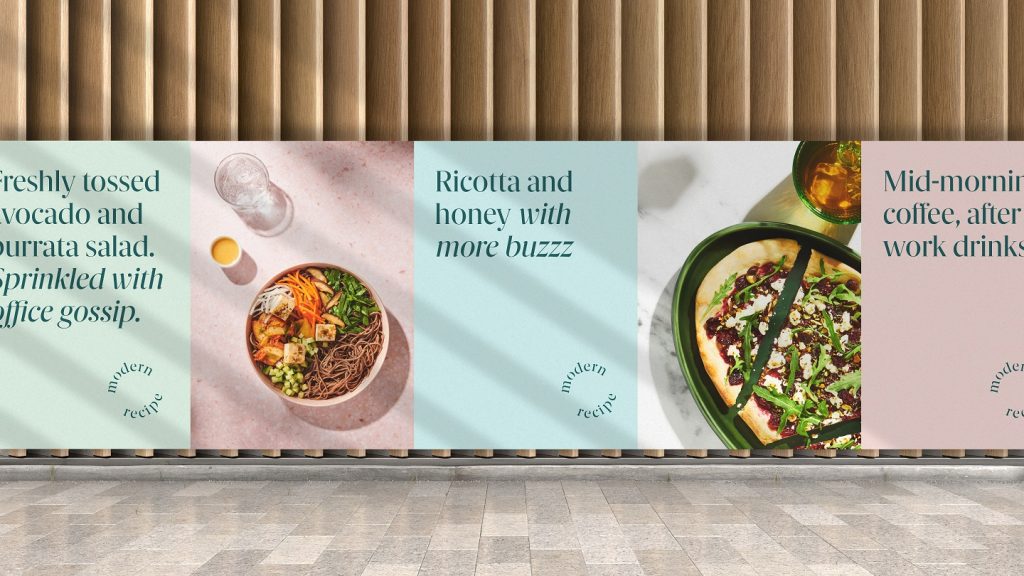 Built around today's professionals, Modern Recipe provides a flexible, sustainable food experience supporting peoples' wellness and health goals. It creates buzzing, multi-purpose spaces where colleagues can meet, work and relax over food and drink throughout the day. Modern Recipe appeals to forward-thinking workplace experience directors who recognise that attracting and retaining talent means delivering what employees want most during their workday breaks and meals.
Sodexo's Corporate Services segment delivers food services, workplace experience, and facilities management to some of the world's most recognisable brands. Its teams have expertise operating across a range of different environments in the corporate sector, including headquarters, regional offices, data centres, manufacturing centres and research and development hubs, in sectors as diverse as professional services, financial services, pharmaceuticals, media and technology.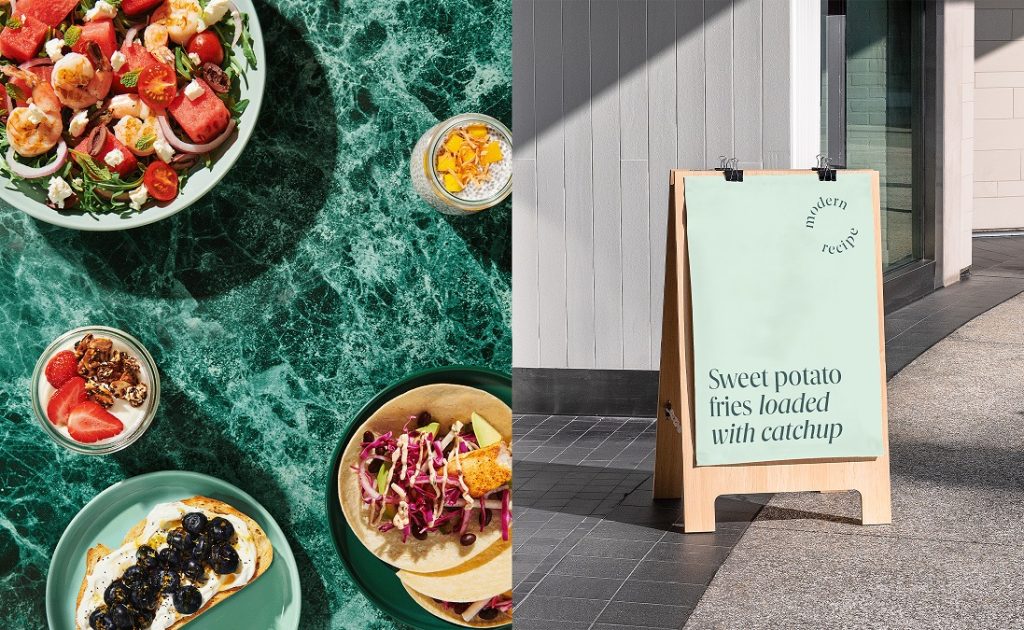 To bring Modern Recipe into today's evolving workplace environment, Without evoked the language of best-in-class urban F&B brands: relaxed, generous, natural, show-don't-tell. Like the food, the identity feels simple, quality, artisanal, and something you want to be around every day, and not themed or noisy. The logo roundel (using Berlingske Stencil by Playtype) acts as both mark of quality and represents gathering around a table, while display typography (Berlingske Serif) evokes refinement and craft. Core colours of dark green and white, emphasise the healthy, sustainable aspects of the brand and are complemented by a palette of summery accents for use in seasonal campaigns.
The wider system – from fresh, alfresco-inspired art direction, to stripped-back signage – complements a variety of branded environments and deconstructs into a simple kit of parts for easy application.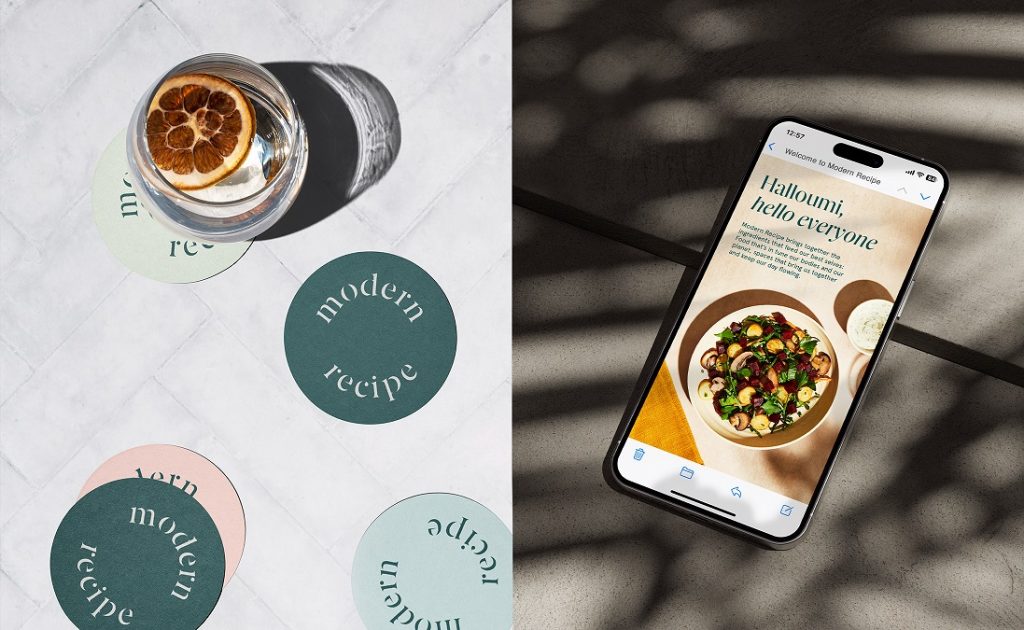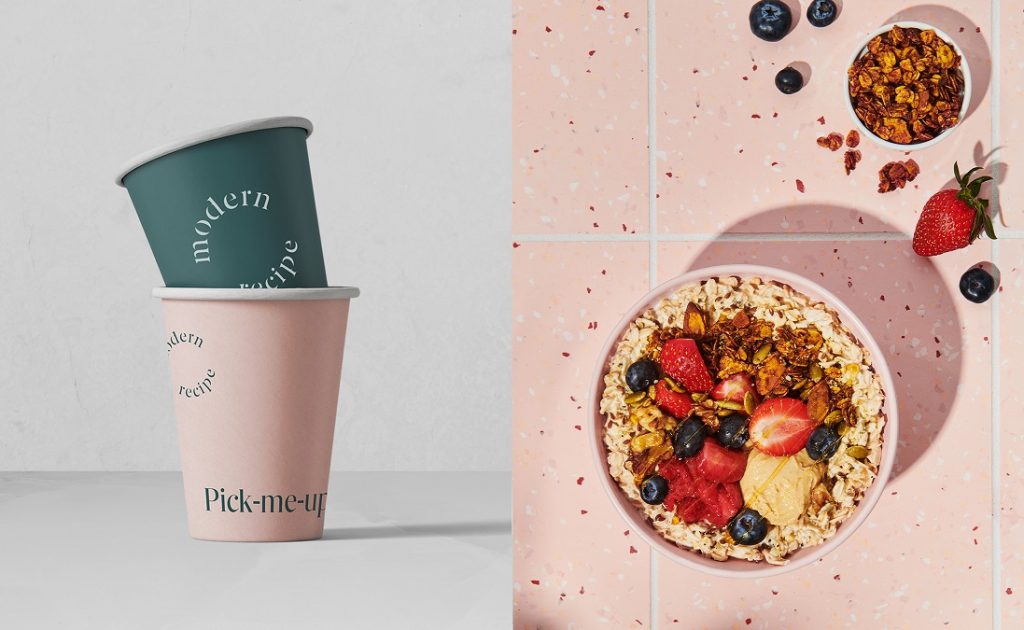 Without conceived the interiors with productivity in mind. From the layout of flexible all-day spaces that encourage collaboration (and another cup of coffee), to the specification of natural outdoor materials for a sense of well-being. Details from relaxed uniforms to natural dishes, down to the sustainable bamboo trays, were chosen in line with the brand values. Wayfinding, point of sale, packaging, and signage were all designed with clarity and impact in mind.
Lauren Wilson-Smith, VP, Retail Marketing at Sodexo, said: "In creating vibrant, welcoming workplace spaces in which to connect, work and relax and with its new artisan, natural aesthetic, Without has revitalised Sodexo's brand, Modern Recipe. It is now a truly future-forward embodiment of what employees need and want in a workplace experience both today – and tomorrow.
Philip Koh, Founder and Director of Strategy at Without, added: "Sodexo were looking to shake things up, and it's been a joy helping transform workplaces through our experience of modern lifestyle brands. Winning the DBA Grand Prix and the success of Modern Recipe in the US are huge endorsements of our approach and collaboration."
Source: Without