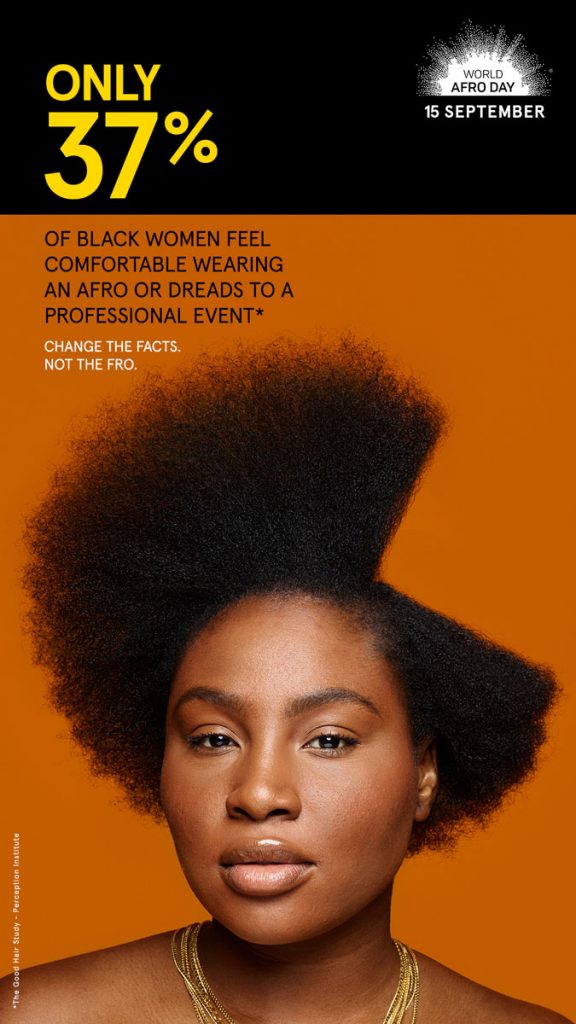 Hair bias is rarely discussed, but it remains a persistent global problem which affects millions. This year alone, families have had to take legal action both in the UK and overseas for the right to have their children attend school with their natural Afro hair.
Whether it be the refusal to overturn an American state ban on dreadlocks or the damaging implications of schoolgirls being forced to straighten their hair in South Africa, discrimination based on hair has serious implications for many people's job prospects, education and wellbeing.
On September 14, Ogilvy, Wavemaker and World Afro Day pioneer a new awareness campaign 'Change the Facts, Not the Fro'. Focusing this year on tackling how society perceives women's Afro hair and highlighting the importance of celebrating it in its natural glory, this campaign aims to challenge the status quo so this generation and the ones to come feel they have the choice to wear their hair in whatever way, shape or form.
The rallying cry is featured on a series of images that use women's Afro hair to illustrate startling statistics taken from The Good Hair study, and in doing so calls for change and for choice.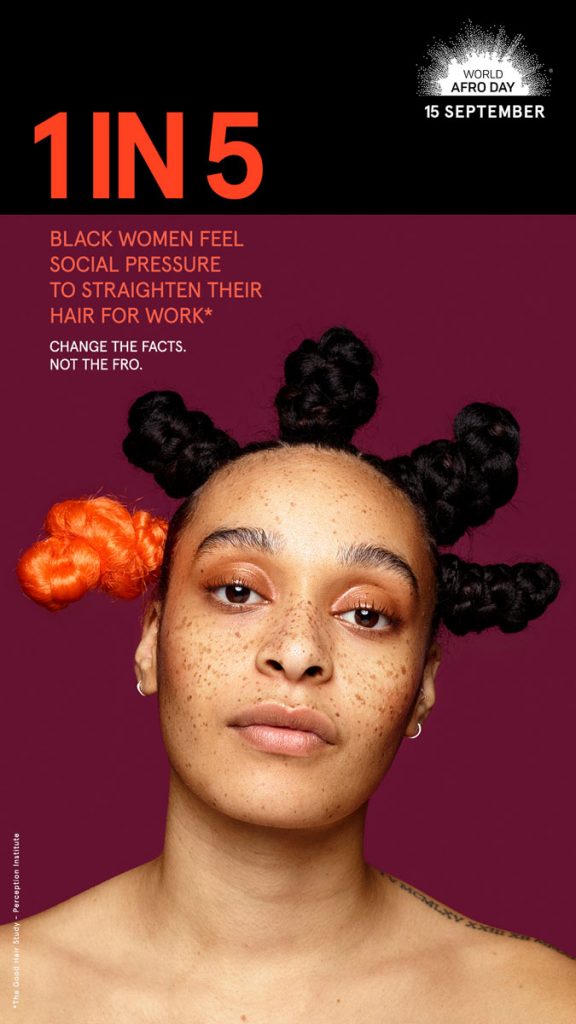 World Afro Day, which happens on September 15th, was founded in 2016 by Michelle de Leon to help change the narrative around natural Afro hair.
Since then, World Afro Day has been endorsed by the Office of the United Nations High Commissioner for Human Rights, the London Mayor's Office and she has recently been invited to speak at the United Nations in Geneva. This year, on the same date, Michelle launches the inaugural World Afro Day Awards in celebration of Afro culture, hair and identity.
2018's campaign was brought to life by an integrated team at Ogilvy, working across London and Singapore. The project was driven by a core team from Ogilvy's diversity network Roots, coming together with Wavemaker's Roots members, of whom many have experienced the very issues they are looking to raise awareness around.
The Roots team seek to drive greater inclusivity, representation and opportunities within advertising, media and the wider creative industry. This World Afro Day, they want people to wear and share their hair with pride.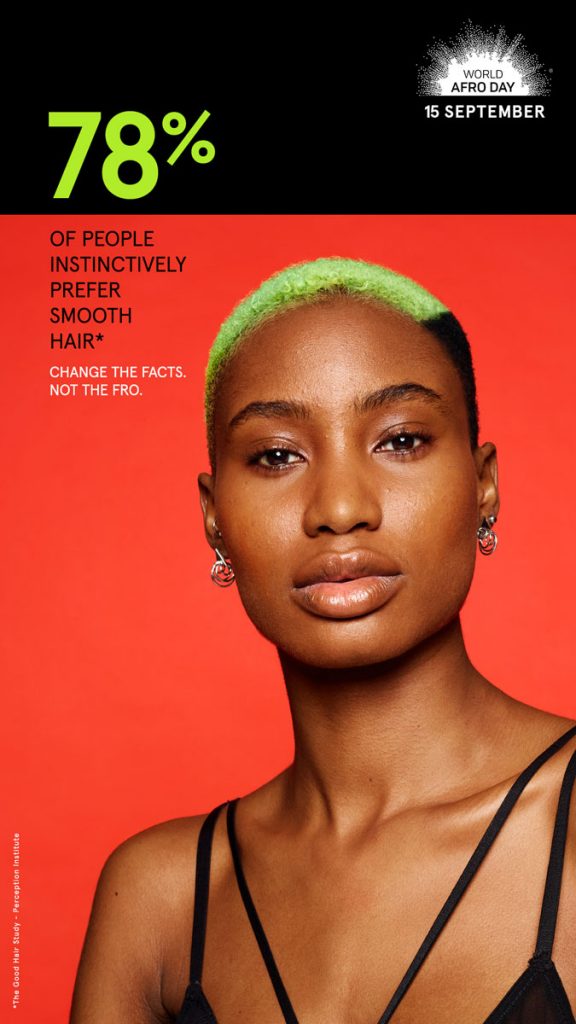 The striking imagery was taken by London-based photographer Derrick Kakembo, who has previously worked at Rankin, collaborating with global production company The Graft to bring to light World Afro Day, a global day of change, education and celebration of Afro hair, culture and identity.
The styles on the models came together courtesy of the award-winning hair stylist and industry expert Charlotte Mensah, who has featured in multiple press outlets and is well-known in London beauty circles for her work. The models featured include Ayesha Marr, Kimhia Toussaint, Olakemi Obi, Dee Ajayi and Yolanta Boti.
The campaign consists of DOOH, social, PR and online. Audiences can follow the campaign on the hashtags #WorldAfroDay and #ChangeTheFacts.
Michelle de Leon, Founder, World Afro Day: "There is a huge gap in the market for a global celebration of African descent. Our culture, style, music and fashion have been trendsetting for centuries and now it is 'time' for our hair to take centre stage too. The story of Afro hair is the same in every language, culture and country. Hair that has been hidden and hurt is now out and proud. Over a billion African people, have been waiting for their 'time' and when we throw a party, the world wants to come!"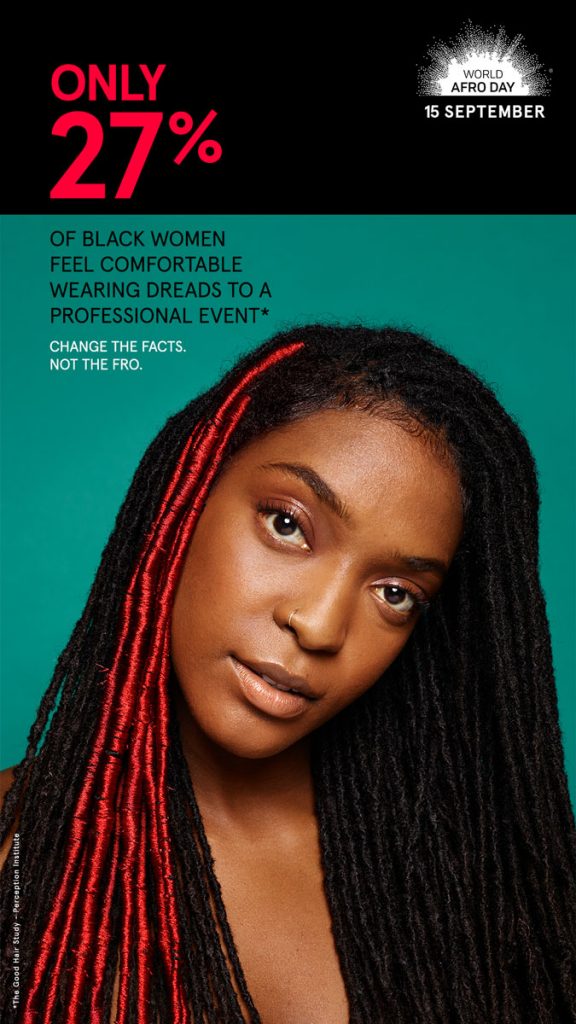 Andre Laurentino, Executive Creative Director, Ogilvy UK: "I am incredibly proud of the work the Ogilvy team has done to bring this brief to life. We scoured the world for the right idea and, together with creatives from our Singapore office, are very excited to help World Afro Day grow. It's stimulating to see the energy that such a diverse team, in every sense, has brought to the idea. A group of promising creatives, a fantastic photographer and a passionate production team. We hope this campaign will raise real awareness around the perceptions of natural hair and will continue to drive change in today's society."
Charlotte Mensah, Owner & Artistic Director, Hair Lounge: "It's very important to me as reigning British afro hairdresser of the year to celebrate and support our heritage and hair in all its diverse texture, due to this I felt it was extremely important to participate in this year's WAD. From kinky to curly to wavy to straight, our hair truly is one of the marvels of our race. Whether we celebrate the rhythm of our natural coils, or opt for straighter styles, our options are greater and more diverse than ever. I believe that if you know your hair, and truly understand the love and care it needs to stay healthy, you can make every day a great hair day."
Source: Ogilvy