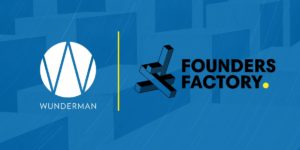 Wunderman, the leading global digital agency and part of WPP, has entered a partnership with Founders Factory – a corporate-backed incubator and accelerator, founded by Brent Hoberman and Henry Lane Fox.
The partnership provides Wunderman's global clients with early access to promising startups, a systematic approach for identifying, connecting and partnering with elite entrepreneurial talent and ongoing education for Wunderman staff.
The accelerator and incubator has been backed by six blue-chip investors, who are Founders Factory's exclusive global partners – L'Oréal, Aviva, EasyJet, China's CSC Group, Holtzbrinck and Guardian Media Group. These investors work with Founders Factory to identify opportunities for startups and ideas for new companies within their respective vertical sectors of Beauty, FinTech, Travel, AI, Education and Media.
Wunderman will work across all vertical sectors and startups, partnering with the right companies to solve business transformation challenges including: customer experience design, marketing technology and digital innovation for its clients.
As part of the agreement, Wunderman will work to help Founders Factory reach their goal to build and scale 200 new businesses over five years.
Mark Read, Wunderman's Global CEO, said: "Growth is our clients' top priority and that depends on innovation.  Now we can help them innovate, not just in their digital marketing, but by working with Founders Factory's global ecosystem of promising young startups and, in return, help these startups build their businesses for the future."
Henry Lane Fox, Founders Factory CEO, said: "Founders Factory was developed to tackle a common problem within big business – how to innovate internally. We are committed to building and scaling over 200 new businesses over the next five years. Wunderman and their clients will not only provide expert marketing advice but also numerous commercial opportunities for our startups."
The Founders Factory portfolio of start-ups, which cover new technologies spanning artificial intelligence, new content creation methodologies, blockchain and ecommerce solutions, will be introduced to the partners and their global networks across every market.
Source: Wunderman