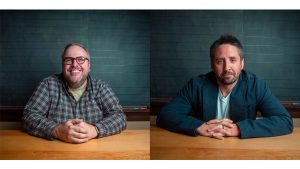 Indianapolis-based creative agency Young & Laramore, have announced the promotions of two Creative Directors, Trevor Williams and Bryan Judkins, to the roles of Group Creative Directors.
As co-GCDs, Trevor and Bryan will help foster and develop the next generation of creative leadership at the agency and help propel the agency's current and future clients to the next level. They will report to Carolyn Hadlock, ECD, Principal.
Trevor has helped grow brands like Farm Bureau Insurance and Brizo as well as create High & Mighty, a new hanging hardware brand for the Hillman Group. Trevor helps set the standard for craft of the work at the agency and his attention to detail has led Y&L's clients and the agency to garner national recognition for its work.
Bryan helped add national brands to Y&L's roster like Trane, American Standard, and Louisville Slugger as well as steward brands such as Trane and Upland Brewing. Bryan has an innate knack for originality that manifests itself in his work and the ongoing development of the creative department.
Source: Young & Laramore