Y&R London has appointed Katie Lee, currently MD at Sunshine, as its new managing director to bring further experience and dynamism to the business. The appointment is the first major management hiring by Paul Lawson since he joined as CEO in October last year.
In her new role Katie will sit on the Exec Management Board as a key part of its plans to reboot the agency.
As part of the executive team her responsibilities will include shaping the future of the agency as well as focussing on day-to-day operational duties such as marketing, reputation management, new business and talent. She will also lead a number of growth initiatives while working across key accounts and pitches.
Katie joined the industry 19 years ago and has a diverse career history working across disciplines from ATL to direct marketing at global network agencies and start-ups.
She joined the industry as an account executive at CDP London before moving to Saatchi & Saatchi and BBH. She joined Leo Burnett in August 2007, where she first worked with Lawson, who promoted her to managing director in 2013. While there, Katie also worked extensively with Jon Burley, now Y&R London's CCO.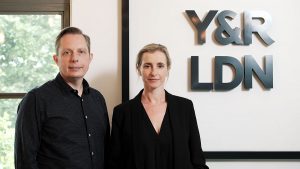 She then helped grow the hugely successful start-up Gravity Road as managing director and Partner before moving to start-up Sunshine, also as managing director where she ran the UK business while it expanded into the US.
Paul Lawson, Chief executive of Y&R London, said: "Katie brings serious experience and professionalism to our plans to grow the agency. If we are going to move upstream, and once again operate as partners to our clients, we need people with Katie's experience and knowledge to be able to lead those grown-up conversations and ensure we are demonstrating a real return on the clients' investment in their agency."
Katie, added: "Y&R feels like a start-up with backing. With such incredible resource behind it, it's an exciting time to build and shape a company into what a modern agency should be. And of course, working with Paul and Jon again just adds to the excitement. In my experience team is everything; teams win pitches, teams create culture and teams build agencies. I know from day one we will be operating at 100% as we already have the trust in place to take Y&R where we want it to go."
Source: Y&R London