Lidl UK premieres the latest advert in its #LidlSurprises campaign which will focus on telling the quality, provenance and price story behind its wine range.
Created by TBWA\London, the new advert makes its debut tonight at 19:15 during Emmerdale, and on 20th October during the ad break in Cold Feet at 21.30, reaching an estimated 12 million viewers across the UK. The Lidl UK advert will run from 19th October – 1st November in 60" TVC.
The latest #LidlSurprises campaign is set to be rolled out across print press ads, TV (20 and 60 second edits), Cinema (60 second edits) and Online (10 and 20 second edits)
In keeping with previous adverts within the #LidlSurprises campaign, the creative features an 'anti-advocate' on her journey from cynic to convert as she travels with Lidl to the extraordinarily beautiful Saint-Emilion – one of the most popular Bordeaux wine regions and home of Lidl's award-winning Merlot-driven Bordeaux blend.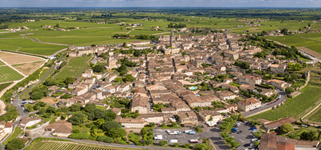 The narrative of the ad, which has a focus on addressing the misconception that low price means poor quality, tells the story of Joanna Ripley who said: "My perception is that Lidl's wine tastes like mouthwash."
To help change Joanna's perception of Lidl's wine offering, she is taken to the Saint-Emilion vineyard, home of Lidl's Grand Cru Bordeaux blend to meet passionate winemaker, Christian Pascaud.

The Bordeaux, which has already won in the 'Great Value Red between £8 and £12' category at the International Wine Challenge, has passed a special tasting panel which has earned it the prestigious 'Grand Cru' title.
Independent wine tasting experts, Wot Wine?, have also revealed that Lidl's Saint-Emilion Grand Cru – which costs just £10.99 – could, in fact, be worth up to £30 per bottle following a recent blind taste test.
Ryan McDonnell, Commercial Director at Lidl UK, said: "We have focused heavily on our fresh product offering, with the #LidlSurprises narrative, showing how we at Lidl source our products where they are at their best. It's important we now expand this journey so that #LidlSurprises encompasses all categories within store and continues to capture the attention of our customers.
"For many of our customers the quality of our wine, and spirits, range is one of the biggest and most persuasive surprises they have when shopping at Lidl – our award-wining Hortus Gin is a testament to that. We felt that that story would translate well in our campaign.
The ad follows the successful Kantar Worldpanel results, released this week, which show Lidl growing as the UK's fastest growing grocery chain in the three months to 8th October, with sales rising by 16% and an overall UK grocery market share of 5.2%.
Mr McDonnell continued, "We are extremely proud of our wine offering, and our 2015 Saint-Emilion Grand Cru is a particular stand out that really demonstrates that premium wines don't always break the bank, at £10.99.There is no-one better than Christian, our wine grower and expert, to help change perceptions about Lidl's offering."
Source: Lidl UK