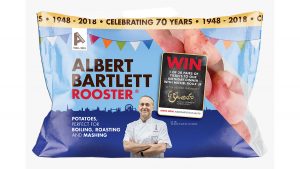 Albert Bartlett the UK's leading supplier of fresh potatoes, was established in 1948 and is celebrating its 70th anniversary this year. To celebrate, the company will produce retro looking bags for its fresh Rooster crop available in stores on 1st September. The packaging for the 2kg bags of Albert Bartlett Roosters will have a vintage look and will feature a promotion for a prize-draw competition for customers in collaboration with Albert Bartlett Brand Ambassador and Michelin starred chef Michel Roux Jr at his famous London restaurant Le Gavroche.
Albert Bartlett and Le Gavroche will offer 20 couples the chance to have a private exclusive dinner with Michel Roux Jr on Saturday 1st December 2018. The winning couples will also win a one-night stay at 4-star Washington Hotel in Curzon Street, Mayfair London. This prize draw will also be promoted on Albert Bartlett's website, via social media and winners will be notified at the beginning of November.
Coincidentally that year, 1948 saw the opening of the first store where you served yourself, which is the essence of a supermarket.  The Co-operative Food opened Britain's first fully self-service store in March of that year in Albert Road, Southsea. Its website claims that it was the "first store in Britain to cut the housewive's shopping hours in half with a self-serve shopping department."
Albert Bartlett & Sons (Airdrie) Ltd, was founded by Albert Bartlett. Albert worked as a basket weaver on Clydeside before moving to Coatbridge where he invested in £30 in an old water boiler and cast iron bath to set up a beetroot boiling operation.
Before long, the operation had grown and Albert, along with his two sons, Jimmy and Alex, approached the local authorities to expand their operation at the existing site, then known as Beetroot Road by the local residents.  The authorities rejected this plea in favour of a new residential development.
Undeterred, in 1957 Albert purchased what was formerly known as the 'Wheat Holm Bakery' site in Airdrie, which grew into the company's former premises at Watt Street. (The site, which was later to see the first carrots in Britain to be pre-packed into polyethylene bags.)
Using only the finest beetroot available, Albert, and his sons expanded into pickling beetroot in the then famous 'Grimbles Malt Vinegar' and selling under the 'Scotty Brand' to the local community for 1 shilling.
Over the years, Albert and his family progressed to growing, buying, and packing various vegetables for sale within the local community and the various co-operative shops that had begun to pop up in local communities.
In 1978, the company began to supply carrots, onions and potatoes to various supermarket chains, and has grown on this basis ever since. In 2007 the Albert Bartlett company specialised in potatoes and began building the Albert Bartlett name as a consumer brand.
It remains entirely independent, with the fourth generation now working in the business.
Albert Bartlett head of marketing Michael Jarvis says, "Albert Bartlett remains a family-run company and we are delighted with the manner in which it has grown from selling beetroot to the local market to be a leading supplier of fresh and frozen potatoes.  As we now diversify into chilled potato products in our seventieth year, we look forward to continued success.  We believe Albert would be very proud."
Source: Albert Bartlett