Christmas has started at Bouygues Telecom who are once again marking the arrival of the festive season with a heartwarming Xmas-advert.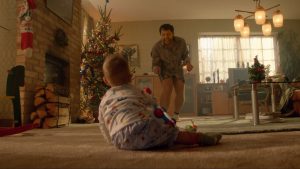 The loving father in this little film is a man with some groovy moves… We get to follow him and his son as the years go pass and the kid goes from being a little boy marvelling at his dancing father, to an awkward teenager and to finally becoming a dad himself.
The story illustrates how with Bouygues Telecom, a brand new smartphone under the tree is more than just a new piece of technology, it can also be the beginning of new beautiful stories, making generations meet.
The film by BETC Paris, which was launched on French TV on November 11, was directed by Martin Werner (Henry) and is set to 'Come and get your Love' by Redbone which fans will recognise from the epic "Guardians of the Galaxy" intro scene.
Source: BETC Paris