ANNA Money (Absolutely No Nonsense Admin), the mobile business account for creatives and entrepreneurs, has launched a campaign with crowd-funded investment platform Seedrs 'Equity for Mugs'.
Not your average FinTech start-up, ANNA Money launched the world's first debit card that miaows last year and has once again bypassed the boring, this time to launch an investment campaign with a difference. 'Equity for Mugs' is simple, you buy a mug and you get shares so you can brew business together.
Launched with a film produced by Chips Films, the video follows a segment from the fictional TV 'Equity In The Attic 2089', a spoof of the Sunday night TV staple Antiques Roadshow and David Dickinson's daytime show Cash In the Attic, set 70 years in the future.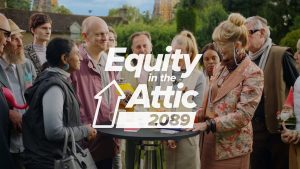 In the film a couple of hopeful home treasure hunters are seen having their ANNA 'Equity for Mugs' mug and other ANNA Money merchandise valued by the show's Ceramics, Receptacles and Plastics expert. After some back and forth – and bemusement as to how customers once used ANNA's meowing debit cards – it is revealed just how much of a good investment the mug was, having now been valued at '8 trillion credits'.
With a minimum input into 'Equity for Mugs' starting at £10, the campaign has been launched to promote the mobile banking app's investment round encouraging everyday people who wouldn't typically consider themselves 'investors' to get their foot on the metaphorical financial ladder.
And whilst they can't make a trillion-credit promise at this point, investors can expect to receive additional perks including vouchers to get enhanced bonuses when referring friends to ANNA, access to an annual investor event and subscription to ANNA's recently launched zine "The Hustle" aimed at freelancers and entrepreneurs.
Beyond raising investment, ANNA has created 'Equity for Mugs' to foster a like-minded community to work with on an ongoing basis to develop new features and continue to grow the business for the benefit of all.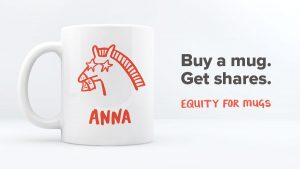 Daljit Singh, Chief Design Officer at ANNA, said: "Our brand always aims to reflect the fun side of running a business, which usually coincides with doing less admin. Equity for Mugs is a chance to entrepreneurs and investors alike to experience what the brand reflects, and invest in how the product will continue to do even more business admin in the future."
With a mission to minimise the boring and difficult bits of running a small business – be that a passion project, side hustle or creative freelance venture – mobile business account ANNA Money provides the tools needed to cut the dull stuff.
The production agency behind the video are Chips Films and Taylor Herring are leading the PR.
Source: Taylor Herring