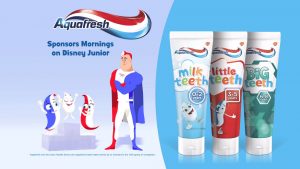 From February 2019, Aquafresh, one of the UK's number one kids oral care brand, will be launching a year-long partnership with Disney Junior, the home of Disney's best loved pre-school TV shows.
The sponsorship package will span several touchpoints, from Disney Junior TV 10" short clips on popular shows, to YouTube advertising across Disney's network (curated of 700 channels) and social media support.

The TV sponsorship, featuring the full Aquafresh Kids line-up, will target parents enjoying Disney Junior with their kids in the morning and evening around brush time.
The creative, starring Captain Aquafresh and the loveable Aquafresh Nurdles, will drive awareness of the brand in a fun and friendly way, while also promoting good oral hygiene habits and helping kids' teeth to grow up strong every step of the way.
Ben Court from Aquafresh comments, "Tooth decay is the most common oral disease affecting children and young people in England, yet it is largely preventable. Therefore, it's more important than ever for brands to work together to encourage good oral care habits from an early age. As the number one kids oral care brand in the UK, we are committed to supporting parents and educating them throughout their child's tooth care journey. Our exciting partnership with Disney Junior will drive awareness of the Aquafresh range, while ensuring that a good oral hygiene routine remains a priority."
Source: GSK