Renaissance art finds an unsympathetic audience in this inspired new campaign for Russian bank Tochka, directed by Great Guns' Ilya Naishuller. Creatively devised by agency Voskhod and produced by Daddy's Film Moscow, the fantastical ad brings iconic artworks to life to epic effect.
The 60-second ad, 'The Wrong Bank', takes place in an art gallery stalked by stony-faced bankers. The deliciously dark melody of Massive Attack's 'Angel' underpins the ominous scene. Suddenly, as the paintings and sculptures spring to life in live action, the bankers are placed in the midst of compelling scenes of human emotion and suffering.
But the artworks are appealing to the wrong audience and the suits treat the spectacle with cold indifference and amusement. A voice over explains that this is because nothing matters to banks except money – not dreams, loyalty, faith, truth, nor love.
Tochka Bank claims to break this tradition by showing love towards its clients at the heart of its business and understanding entrepreneurs' needs. Its new ad positions it proudly as an outsider; 'wrong' in the eyes of traditional banks, but perfect for serving its clients' businesses.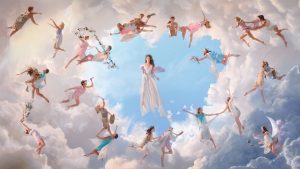 Ilya Naishuller, directed the ambitious and grand-scale ad. He comments: "I immediately fell in love with the concept and was excited to try something new as a director. It was a lot of fun researching Renaissance art to come up with living, breathing versions. Casting was an interesting challenge as finding the types of faces to fit each the story took some time and careful consideration. Ultimately, I think we struck gold with our cast and managed to find the right balance between being interesting-looking people who also fit the era we were trying to recreate."
To capture the otherworldly visuals, Naishuller shot on high-speed Phantom Flex 4K cameras. Commenting on the set-up, he says: "We worked heavily with VR cameras to create previews and pre-shot most of the video, which allowed us to blast through the shoot with an accurate yet fun approach."
Source: Great Guns