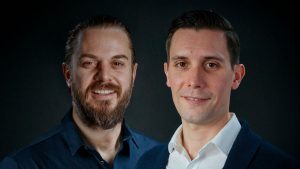 Atmosphere Proximity, the New York office within Proximity Worldwide, has announced two senior appointments bolstering its strategic and account handling departments.
Mathew Ford joins as Director of Strategy and Eric Laffly joins as Group Account Director. Both will report directly into Managing Director, Garrett Franklin, and will start this month.
Ford brings a wealth of both planning and vision capabilities experience coupled with design thinking, technology and customer experience strategy. He comes from Huge Inc, where he was responsible for overseeing strategy across Chase, Thomson Reuters, Four Seasons, and mattress startup Casper.
He originally hails from Sydney, Australia and began his career as a digital strategist at global agency Mullen Lowe Profero before moving to the US and onto experience agency Momentum. It was there he helped to head up strategy for Verizon, SAP and the Patron Spirits business, crafting the Verizon sponsorship vision. This included activating across their national NFL, NBA, Indy Car, Star Wars and Smart Cities platforms, and helping to define a connected loyalty program for the brand.
Ford, said, "Atmosphere Proximity has put strategic planning at the very core of their service offering, using a data-driven, insight-led approach that helps clients navigate today's complex marketing environment for true business impact. I'm excited to help them further shape this offering to create breakthrough work."
Laffly joins from R/GA and previously drove digital product and service innovation at Wunderman and Digitas working with clients across a range of industry verticals including pharmaceutical/healthcare, financial services and technology. His client experience includes Johnson & Johnson, Verizon, Pfizer, AstraZeneca, Bristol-Myers Squibb, Hewlett Packard and American Express.
As a strategic marketer Laffly brings 15 years of experience working in digital, advertising and relationship marketing.
Laffly, commented, "I've been hugely impressed with the people at Atmosphere, the work they create and their perspective on how to solve complex client challenges. It's an exciting time to join the agency and I'm looking forward to driving digital innovation as the agency continues to grow."
Garrett Franklin, Managing Director of Proximity Atmosphere, added, "We're committed to hiring the industries best and brightest talent who have extensive experience, a unique perspective and true understanding of how to help our clients navigate today's complicated marketing challenges. Both Mat and Eric fit that bill and we're thrilled to have them join as we continue to advance our data-driven creative approach for a robust and growing list of marquis brands."
Source: Atmosphere Proximity