On behalf of Australia, swimwear brand Budgy Smuggler is calling on the UK Parliament to consider a new proposal as it votes on a range of Brexit options on March 27.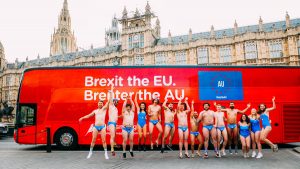 The proposal asks the UK to "forget the EU" and "join the AU", thereby forming a new super union between two great nations. The #JoinTheAU campaign launched outside the UK Parliament from a branded campaign bus, reminiscent of the infamous Vote Leave Brexit bus.
Chief Smuggler, and head of the #JoinTheAU campaign, Adam Linforth, said: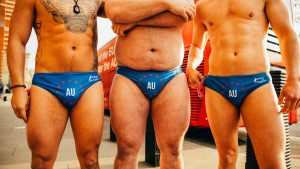 "As a brand with offices in Australia and the UK – which is our UK/Europe base – we've been watching intently as Brexit has unfolded, and to be honest it looks like a complete shit fight, so we thought we'd extend an olive / eucalyptus branch from sunny Australia. When we heard that Parliament had seized control of Brexit and were holding an extraordinary session, we realised that we hadn't seen any extraordinary solutions. So, we took some initiative and have provided an option that hopefully British MP's can support – head down under and #JoinTheAU."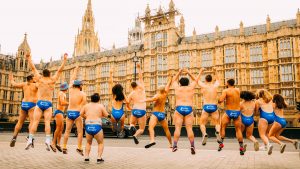 The bus traveled the streets of London before pulling up near Australia House in Aldwych to announce the cheeky campaign hosted by a group of #JoinTheAU advocates dressed in nothing but their limited-edition AU branded Budgy Smugglers.
In celebration of the campaign, Budgy Smuggler has created a bespoke range of #JoinTheAU branded swimwear, which will be handed out across central London throughout the day to help kickstart the movement and will be available to purchase online here.
Source: Budgy Smuggler