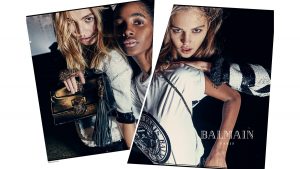 After considering many leaders in the field, Balmain has selected Mazarine to relaunch its eCommerce website.
Balmain—the historic Parisian house enjoying an exciting renaissance under the creative direction of Olivier Rousteing—is known for being one of fashion's digital leaders. The brand's singular style, combined with a novel message and positioning, has excited a new generation, winning Balmain over eight million followers on Instagram.
The house's celebrated "Balmain Army" is a singular and diverse grouping of men and women of all ages, origins and backgrounds. What joins them all together is a common commitment to pushing limits, taking risks and discovering new pathways and opportunities. Mazarine is pleased to announce that it will soon be marching alongside them.
Mazarine, the agency founded and led by Paul-Emmanuel Reiffers, will proceed to a complete redesign of the eCommerce platform of the brand.
The new Balmain.com will bear a redesigned interface fully optimised to support a user experience in par with the innovative DNA of the brand. The website will see an improvement in its performances through better access and the use of technologies bringing a much faster and improved purchase funnel.
Source: Mazarine