To celebrate the 50th anniversary of the Apollo 11 moon landing, Digitas, UNIT9, and ENVY Advertising have teamed up on a powerful new promo, 'Full Circle'. Centred around the first black female astronaut, Mae Jemison, the film promotes The John F. Kennedy Presidential Library and Museum's new interactive documentary app, JFK Moonshot.
The app, created by Digitas, allows users to relive the ground-breaking achievement through an epic, full-scale augmented reality simulation of the Saturn V rocket, which launched Apollo 11 into space.
Directed by UNIT9's Jonathan Pearson, the cinematic 40-second film opens with rousing footage of JFK's iconic 1962 'We Choose to Go to the Moon' speech, which a little girl (representing a young Mae Jemison) watches intently on her living room TV.
The camera orbits the scene throughout, switching seamlessly between the TV and Mae, while the cast and set evolve to reflect each decade. The story unfolds with each rotation, taking us on a captivating journey from the 1960s up to present day, all underpinned by JFK's speech.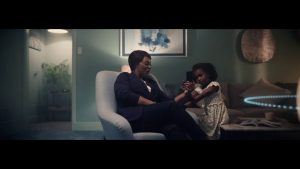 Post production company, ENVY Advertising, was brought on board early on in the process and worked in close collaboration with UNIT9 to bring the ambitious project to life. To complement the spectacular visuals and time-lapse theme, the team at ENVY Advertising crafted the grade, sound design, VFX, and motion graphics.
Greg White, Managing Director at ENVY Advertising, comments: "From working with Jonathan previously, we were familiar with his meticulous approach and brilliant eye for detail. We knew that every element of the project had to be carefully considered and respectful towards the final piece. The orbital move around three generations meant that casting and set design were a key consideration, and rebuild was a major part of the environment. The motion-controlled 'orbital' move that allows for the transitions between the time periods was supervised by Martin Waller and Bill Wright, who were tasked with the scene extensions behind the TV and ensuring the details were respectful of the art direction and the unique period itself."
Bill Wright, Head of Motion Graphics at ENVY Advertising, comments: "Due to the scale and complexity of the project, there were a multitude of technical challenges to be worked out. The biggest challenge for me was getting the CG set extensions (in this case, a very prominent wall behind the TV that the camera sweeps past three times) not only looking right, but looking suitable for the three time periods. We had a very small lead time on this considering what needed to be done, and we turned it around in 20 days which I'm hugely proud of, and is testament to how well the VFX, Flame, Edit, and Audio teams and producer here played together. It was certainly one of the tightest jobs, time-wise, that I've been involved with. But once our Nuke guys started to corral the CG and our Flame ops began the process of finessing it, you could tell it was going to look beautiful. And it really does."
Source: ENVY Advertising