The Coach is back as price comparison and switching service, uSwitch, and creative agency Brothers & Sisters release three new TVCs. The continuation of the campaign demonstrates to the British public just how easy it is to switch energy suppliers and save money with uSwitch.com, the UK's leading energy switching site.
Using a key visual and language of a sports tactic throughout all of the ads, Coach first shows a complicated diagram to illustrate the perceived hassle of switching energy provider on your own. He then wipes this off the board to reveal a much simpler approach for switching energy provider with uSwitch – 'It's the easy play!".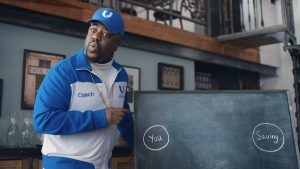 Alex Gibson, Senior Marketing Manager at uSwitch, comments: "Five million UK consumers have already switched their energy supplier. By showing how easy it is, we hope that Coach will inspire millions more to benefit from lower bills."
Matt Charlton, CEO, Brothers & Sisters comments: "When developing the initial Coach creative in 2016, we identified that people suffer from 'action paralysis' when it comes to switching. The comparison part is often the simplest part of the journey but committing to a switch is when we most frequently see people give up on the process. Our purpose with this campaign is to continue to motivate people to get past this action paralysis and switch. Having the Coach as a conduit allows us to deliver the ease of this process in an entertaining way."
The 30-second and two ten-second TVCs launch on 4th February 2019.
Source: Brothers & Sisters