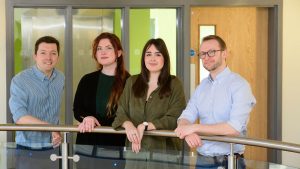 Shortly after celebrating its second anniversary, Lincoln-based digital PR agency Carrington Communications has appointed a new digital marketing manager.

Lauren Devlin is the fourth member of the Carrington team, which works with more than twenty organisations across Lincolnshire and the UK.

Lauren joins from Lincoln-based eCommerce business EQVVS. As well as supporting the digital PR team, she will be heading up the SEO (search engine optimisation) and PPC (pay-per-click) team as the company looks to continue its recent growth.

Over the past six months Carrington has won several new local clients including Lincoln Drill Hall, Revesby Estate and the proptech startup Accommodation.co.uk.

In the last month, the team began working with London-based investment recruitment specialists Kea Consultants and the company is now supporting EQVVS with PPC marketing.

Rob Tomkinson, founder of Carrington, said: "PR and SEO go hand in hand, so it was a natural next step for us to grow the digital marketing side of our business to complement our existing digital PR work. With her knowledge of both SEO and PPC, Lauren's experience makes her highly sought after in Lincoln right now. I'm really pleased she decided to join us to lead this growing side of our business so we can keep delivering creative, effective and measurable results for our clients."

Lauren, who grew up in New Jersey, USA and who once worked in production at a company coordinating stunts for Hollywood movies before working in the UK has been working in marketing for the last five years.

Lauren said: "In a lot of ways search marketing and PR are two sides of the same coin and in an ever more digital world, there are big opportunities for companies that can make the most of all digital mediums. Carrington is making a name for itself for the high quality of the team's work and dedication to clients and I'm excited to be joining the team!"

Carrington is currently based at the BG Futures Enterprise Centre on the Bishop Grosseteste University campus, but has plans to move to bigger premises later in 2019.

Its growing list of Lincolnshire SMEs includes Top 30 UK accountancy company Duncan & Toplis, agricultural manufacturer Househam Sprayers and the civil engineering company, Minster Surfacing.
Source: Carrington Communications