Churchill – one of the UK's most loved brands – is relaunching this Autumn with a new campaign and rebrand that encompasses every element of the insurer's identity, from the company logo to its iconic figurehead.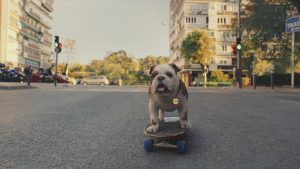 The new campaign, created by ENGINE, launches on the 4th October with a TV spot shot by award-winning director Nicolai Fuglsig, through MJZ, and confidently reasserts the brand's appeal to a modern, busy audience – inviting them to 'Chur-Chill'.
The original 'nodding dog' mascot has been given a full makeover, replaced by a completely fresh CGI incarnation of Churchie. As part of the brand relaunch, Churchie is seen effortlessly gliding through life on a skateboard. 
The campaign evokes the feeling that being covered by Churchill offers.  Customers can chill, safe in the knowledge that Churchill is doing all the hard work to get things sorted out.
The all new, life-like Churchie has been brought to life by the visual artists at Untold Studios, an independent creative studio currently working on 'The Crown'.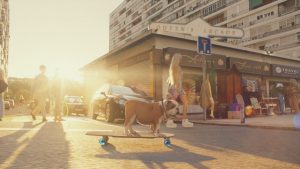 Untold conducted extensive character exploration before they set out building a fully CGI version of him, from his skeleton all the way to the surface. The end result is not only anatomically correct on the surface, but also beneath the skin, delivering a performance that feels realistic, authentic and engaging. 
The fully integrated campaign will premiere with an 'ITV introduces' spot in the break of 'Emmerdale' and run across an eight-week period spanning TV – including a second TV ad that will break on the 28th October – radio, cinema, blipverts, channel sponsorship, social and a Spotify partnership.
Lucy Brooksbank, Head of Churchill Marketing said: "Our audience has always loved Churchie, but they don't expect him to stand still. So, with our new relaunch of the brand, Churchill rides on, making life feel that little bit more effortless – as we believe it should do for all our customers allowing them to just… chill."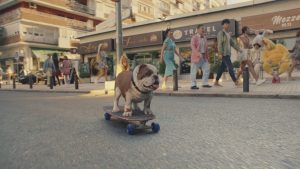 Paul Jordan, Executive Creative Director, ENGINE CREATIVE, added: "Churchill is one of the nation's most loved brands. But brand love can slip into overfamiliarity if you're not careful. ENGINE was determined that no one should take Churchill for granted. So, we've given Churchie a complete makeover. Goodbye nodding dog. Hello lean, mean Chill machine."
Neil Davies, Executive Creative Director at Untold Studios, commented: "We had so much fun creating Churchie – he is such a dude. It's been a privilege to be part of this campaign!"
Source: ENGINE