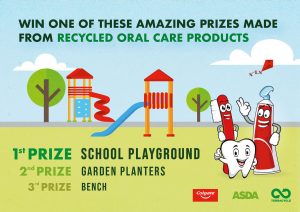 Alongside recycling partner TerraCycle, and retail partner ASDA, Colgate announced the launch of a competition for a UK school to win the first playground made from recycled oral care products.
Any primary school in the UK can sign up for a chance to win the playground and once registered, the public will vote for the winner. The school which receives the highest number of votes will win their very own recycled playground made of a blend of oral care and general household waste such as toothbrushes, toothpastes tubes and caps, plastic drinks bottles, shampoo bottles and butter tubs.
The schools that receive the second and third highest number of votes will also win prizes including a garden planter or bench made from recycled oral care products.
How to enter the competition:
Schools wishing to participate in the activity need to register for the chance to win by 17th May 2019 via the following website.
From 23rd May until the 4th July 2019, the public can vote for the primary schools in their area to win a recycled plastic playground, incorporating recycled oral care waste through this link. 
The winner of the playground will be revealed in mid-July with the playground unveiled at the winning school in September 2019.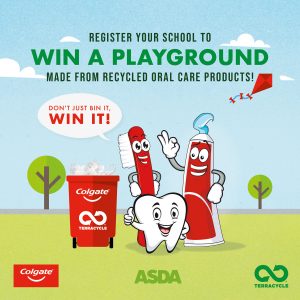 Colgate hopes the initiative will teach children about sustainability and the simple steps they can take to protect the environment. It also provides primary schools the opportunity to engage with their local communities for the chance to win a top prize for their school.
Philip Durocher, General Manager Colgate UK commented: "Creating more recycling opportunities for everyday items is so critical. Through our TerraCycle recycling programme, enabling anyone to recycle their oral care waste, we want to raise awareness of how children, schools and communities can recycle more of the products they use at home. The new playground made from recycled oral care products is just one creative example of how our toothbrushes and pastes can be given a second life when we no longer need them."
Laure Cucuron, General Manager, TerraCycle Europe commented: "TerraCycle and Colgate partnered to launch the Colgate Oral Care Recycling Programme to enable UK consumers to recycle any brand of toothbrush and toothpaste tubes. This exciting new contest to win a playground made from recycled products will really demonstrate to children, schools and whole communities the possibilities of recycling and reusing materials and the circular economy. Until recently oral care waste wasn't recyclable in the UK and now one lucky school will win a playground made from oral care products."
Source: Colgate