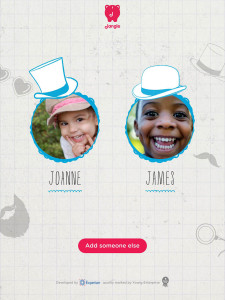 Experian has launched a new mobile app designed to help children learn essential money management skills while they earn the things they want.
Named 'Jangle' after the noise coins make, the app was designed and built by digital agency DARE, a part of the OLIVER Group, and is being launched with support from Sarah Willingham, consumer champion, and entrepreneur from the BBC's Dragons' Den.
Jangle, available free to download on iOS, allows kids to create savings pots for things they really want. And so, when children would normally start pestering their parents for something they want, the app instead enables the parent to encourage the child to set up a pot in Jangle. Once a goal or 'want' is set, the child and parent will agree a number of tasks such De-clutter Bug, Super Shopper Challenge or the Pizza Chef Challenge, against which the parent will pledge an appropriate amount which will go into the child's virtual money box upon completion of the activity. The child also has the choice to create their own activity to further contribute to their savings.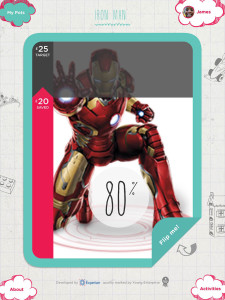 Quality marked by pfeg (Part of Young Enterprise), the suggested activities are designed to teach children a range of money management capabilities such as saving, budgeting, the value of money and being a savvy consumer.
The app was created by Experian in recognition of the vital role that parents play in both influencing and supporting their children's financial capability. In addition, there is no provision for financial education to be taught at primary level in spite of notable evidence that adult money habits can be set from as young as seven*.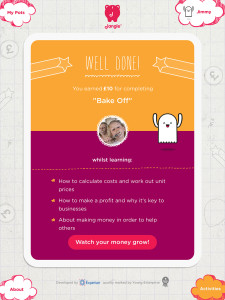 Clive Lawson, MD of Experian Consumer, notes: "Parents have such a crucial role to play in helping shape children's attitudes and behaviours towards money but that is a big responsibility and they often don't get enough support. It goes without saying that children should benefit from the lessons learnt by earlier generations however in a society where we are so reluctant to talk about money and debt, this doesn't seem to be happening in relation to money management.
"The money skills children could learn by using Jangle will help them not only learn to save, to budget, the value of a pound that has been earned but also skills in becoming a savvy consumer. These are the skills we all probably wish we had learnt earlier in life."
Brian Cooper, executive creative director of DARE, adds: "Jangle is one of the most exciting projects DARE has created this year. We believe digital experiences should offer real value to the customer – and what better value can you offer than teaching kids skills that will last them a lifetime?"