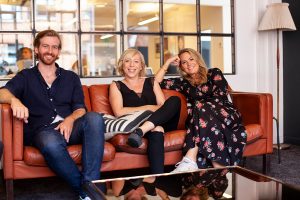 Dark Horses, the sports creative agency, has hired Anomaly's Nicky Russell as COO, WCRS's Matt Readman as Head of Strategy and Leo Burnett's Kate Tweed as Business Director. The appointments will bring further rigour and experience to the agency following a period of significant growth on the back of new business and creative success.  
Nicky will join founder Simon Dent and Creative Partner, former Droga5 ECD, Steve Howell on the senior leadership team. All five will work together on shaping the future of the agency and creating the blueprint for its continued growth into 2020'smassive year of sport, and beyond.
Since January 2018 Dark Horses has grown its client base by more than 55%, quadrupled its headcount and equalled 2018's turnover before the end of H1 2019.
The agency recently won Prolific London's Independent Agency of the Year, was shortlisted for Young Agency of the Year at The Sports Industry Awards and was listed on Campaign's Best Places to Work.
Nicky, a former IPA Woman of Tomorrow ran a number of successful businesses, including owning a football club, before entering the world of advertising. It is this wide and varied skillset, experience and seniority, along with her passion for creating inclusive environments, that she will bring to her role and to the agency.
Kate, with her experience in both large and small agencies, working for the likes of AMV BBDO, Atomic and VCCP, will be charged with bringing experience and strategic rigour to Dark Horses client-base and helping to develop the growing account management department, while also driving the agency through the busy new business period.
Matt not only brings a huge amount of brand strategy experience from working on clients such as BMW, HSBC and RBS to the agency, but has also worked on a host of sport brands. He will offer new angles and increased firepower to Dark Horses strategic offering as well as its own brand presence.
Simon Dent, Founder at Dark Horses, said: "We have grown beyond all of our expectations, but not beyond our ambitions. Nicky, Kate and Matt are exactly what the Dark Horse family needs to take us to the next level, and will fit right in to our tight-knit community. They bring experience, knowledge, rigour and more firepower as we enter our next phase of growth. Not to mention a massive year of sport next year."
Source: Dark Horses