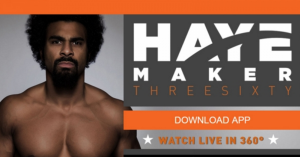 Former boxing heavyweight world champion David Haye tapped the power of VR for his comeback fight against Australia's Mark De Mori.
Broadcasted live from the O2 in London on January 16, those who downloaded the Hayemaker app from the Google Play Store was able to watch the fight live, utilising the 360 degree footage to travel around the ring during the bout.
Once live, the app also allowed fans to have a VR view at Haye's workouts as an added extra.
On the app, created through a partnership between IM360 and Salter Brothers Entertainment, Richard Ngo-Tran, vice president of marketing for IM360, said: "We're proud to be able to bring true live virtual reality to market, providing sports fans a level of entertainment never experienced. With this first-ever live VR boxing match, we continue to push the boundaries of virtual reality as it enters the world of mainstream sports entertainment."
David Haye, added: "I'm fascinated by new emerging technologies, and am constantly looking to embrace the digital world in order to connect with my fans. With this in mind, I'm thrilled to bring immersive VR technology to big time boxing — allowing the public to stand alongside me in the ring, letting them see what I see and experience every punch."