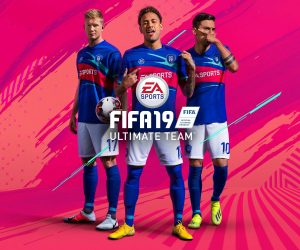 In the next phase of promotion for the highly-anticipated FIFA 19 game, footballers Kevin De Bruyne and Paulo Dybala star in a print campaign and gaming assets for the new video game. Media Agency, Lagardère partnered with high-end sport and athlete photographer Rafael Astorga and LS Productions for the FIFA Ultimate Team shoot.
The players showcase their respective skills and signature on-field celebration poses in the striking images whilst adorned in their team kits and the FIFA Ultimate Team Kit for 2019.
Taking place over two days at London's Big Sky Studios, LS Productions serviced and produced the shoot with De Bruyne and Dybala. With a wealth of experience working with sporting talent and a key production hub in Manchester, LS Productions are well-versed in working with high-end footballers.
LS Productions managed the footballers, their trainers and coaches on set to allow for the very best performances to be captured in a limited time frame.
Abi Atkinson, Senior Producer at LS Productions says: "Athletes have demanding and strict schedules meaning the time they have on-set is often quite short. So it's crucial to have a highly-skilled team and to be prepared. We set up the studio and arranged body doubles of the footballers to do the pre-light run-throughs before the talent arrived, allowing us to be most efficient on the day. We also had the athlete's trainers and coaches on-set to ensure they were comfortable to perform, and, of course, their preferred music to create a brilliant atmosphere!"
The production service company also covered details for action shots such as laying AstroTurf and crash pads and arranged for makeup artists to ensure the talent's skin reflected their dewy in-game complexion. LS Productions also organised a private jet for one of the players.
As well as the still shots,  behind-the-scenes motion assets for socials were also capture on set. Abi adds: "The motion elements of the shoot were actually a last-minute addition but, because we had a tight team in place, were able to accommodate this and in just one day." We brought on board a great team, who at short notice, were able to quickly ascertain what was involved creatively and get things in place ready for the shoot.
On working with LS Productions, Andy Gilooley, Video Producer at EA Sports, says: "Great service, very professional, wonderful people."
Melissa MacGillivray, Executive Producer at Rafael Astorga Photographer says: "Team was lovely, flexible and experienced!"
The creative assets form part of a wider campaign for the game launched in September 2018.
Source:  LS Productions