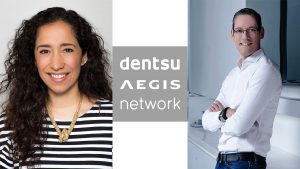 Dentsu Aegis Network appoints, for the first time, regional presidents for its media agencies in Latin America, further strengthening the presence of the network within this important region.
Fernando Bermudez Pire has been appointed the President of Carat and Vanessa González will take on the position of President for Vizeum in Latin America. This is an important step for Dentsu Aegis Network's expansion strategy.  The network, which is present in 22 countries, is the youngest in the region.
Bermudez Pire will be responsible for the operation of Carat across Central America, South America and in the Caribbean Islands including Mexico, Argentina, Colombia, Chile and Peru. According to RECMA, Carat has been the best global network of media agencies in the world in 10 of the last 11 quarters that have been assessed.
In his new role, he will report to Mauricio Sabogal, Chairman of DAN Media for Latin America. He will also retain his current position of Dentsu Aegis Network Head of Media Mexico.
Bermudez Pire is a marketing consultant and business development specialist who has help top roles at Accenture, Havas Media and Arena Quantum.
Bermudez Pire said: "The strengthening of the Carat network in Latin America is a key move in the group's strategy of continuing to offer holistic marketing and communication solutions to its customers, contributing to the success of brands in the digital economy."
Gonzáles joins Dentsu Aegis Network Latin America assuming the role of President. She will have an important focus on the development of new products for the media group in the region.
Gonzáles has been focused on innovation and digital transformation in the region for more than 20 years. She was a key contributor to the expansion and positioning of the Omnicom headquarters' regional office in Miami. In here previous role, she led the digital operation of Omnicom Media Group Regional. Gonzáles also holds a bachelor's degree from the University of Lima and a master's degree from Emerson College, Boston.
Gonzáles said: "I am very energized to join Dentsu Aegis Network and to continue leading the transformation of the industry with an agency like Vizeum. It's not exactly fresh news that the traditional media industry has changed dramatically over the last 10 years. These times require versatile and adaptable agencies that deliver measurable and real business results, with full data capabilities, understanding the technological infrastructure, and has an exceptional ability to manage talent. I'm passionate about being able to make tangible, and close to these solutions to our customers ' portfolio in Latin America."
Julio Castellanos, DAN's CEO for Latin America, said: "Fernando's promotion and Vanessa's integration into these regional leadership positions are key steps in our mission to make Dentsu Aegis Network Latin America the best partner for our customers' business growth. Our media operations combined with our creative specialists (Dentsu and mcgarrybowen), performance (iProspect), experience and digital transformation (Isobar) and armed with the most advanced tools in data position Dentsu Aegis Network as the best-prepared group to help our customers navigate the digital economy."
Sabogal said: "Through these two appointments in Latin America we will capitalize on the capacities of local operations, both our own and affiliated. Much like we are across the globe, our objective is to become one of the most important media agency groups in the region."
Source: Dentsu Aegis Network