Domino's, the UK's best loved pizza, is launching the next instalment in its brilliant "The Official Food of Everything" campaign.
Everyone loves a pizza night in with friends as they are getting ready for a night out, so it seemed only logical for Domino's to make this ritual official.
That's why they've named themselves "The Official Food of the Night In, Before The Night Out".
The new spot starts with the selfies, before working backwards through face masks and waxing, ending up on the sofa with the nations best-loved pizza. It is fittingly set to "Pretty Woman" by Roy Orbison, which will no doubt ensure the work stays stuck in everyone's head for the rest of the week.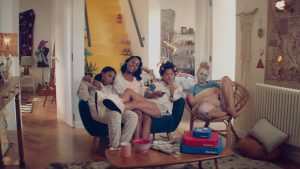 Created by VCCP, it will run in full across TV, VOD, and online.
Tony Holdway, Sales & Marketing Director of Domino's said: "The Official Food of the Night In, Before The Night Out is a whimsical, fun take on what happens across the country before that great night out, or indeed those equally enjoyable nights in."
Julian Douglas, vice-chairman, VCCP added: "Domino's is already synonymous with getting ready for so many people, this enjoyable spot just makes it official."
Domino's launched in Britain in 1985 and is recognised as the UK and Ireland's favourite company, delivering around 100 million freshly made pizzas from over 1,000 stores every year.
Source: VCCP