According to a study, 88% of women feel society promotes an "ideal" underarm; now, Dove Deodorant and Ogilvy UK unveil a brand new campaign celebrating all types of underarms.
The new film, digital assets and print all seek to smash the stereotype and help women feel confident and uninhibited, however they have their underarms.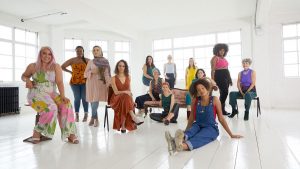 Whether they're hairy, dyed, lazered, tattooed, smooth or glittered, have scars, dark marks, moles or vitiligo – the only thing an underarm shouldn't be is a worry. In this campaign, 13 wonderful women, from all different backgrounds share their underarm stories and wave goodbye to judgement and hello to all underarms.
Kath Swallow, Global Brand Vice President, Dove Deodorants at Unilever: "It's so inspiring to see such a confident group of women share their underarm stories in such a powerful way. It's a seemingly small element of our bodies, but as our study shows, the pressure for them to look a certain way can affect self-esteem and confidence. We hope as the campaign rolls out, others will be inspired to feel confident and embrace their underarms however they are or however they choose to have them."
Dede Laurentino, Chief Creative Officer, Ogilvy UK: "Sharing powerful stories and showcasing a real purpose has always been at the heart of Dove. Women's underarms have been close to a taboo for too long. I'm happy to see Dove addressing the topic in such a liberating way."
The work will debut on 30th October, going live across all Social and Digital channels.
Source: Ogilvy UK