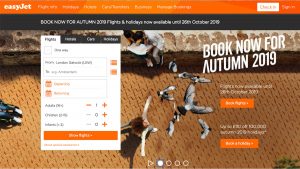 easyJet, Europe's leading airline, has put its flights for autumn 2019 on sale this morning meaning that thousands of flights across Europe are now on sale until 26th October 2019.
More than 100,000 flights are being launched across the entire easyJet network providing more than 17.4 million seats for passengers to enjoy their autumn breaks or low-fared commutes. Of these, more than nine million seats are now on sale to and from the UK on 52,000 flights.
easyJet has bases across 11 UK airports and currently has over 1000 routes on sale to destinations across Europe, the Middle East and North Africa– 495 of which touch the UK.
Sophie Dekkers, easyJet's UK Director, said: "We're really pleased to be putting our flights for autumn 2019 on sale today. Passengers can look forward to even more low fares to Europe's best beach and city destinations. For those who are looking for inspiration on where to go on their break, our Inspire Me app available on our website helps travellers to find flights tailored to their budget and travel dates. Customers can also use our new Look & Book feature which allows those browsing Instagram to simply take screengrabs of amazing, inspiring photos they see and then share with, or upload to, the easyJet app which matches the photo to easyJet's 1000-strong destinations on offer throughout Europe."
Customers can look forward to a number of routes to destinations such as:
London Gatwick to Barcelona from £31.24*
Liverpool to Alicante from £31.24*
Newcastle to Malaga from £27.20*
London Stansted to Naples from £29.22*
 *Fares per person, one way, based on two people travelling on the same booking.
Source: easyJet