bonprix, which is part of Europe's second largest eCommerce retailer the Otto Group, launches a new positioning and pan-European campaign. By completely reinterpreting the brand's tagline 'bonprix – it's me' for 2018's woman, the new strategy challenges and defies conventional thinking around what women in middle age like – and are like. 'bonprix – it's me' is an ode to women of all ages, shapes, sizes, and walks of life – and shows that when it comes to women and how they see themselves, there's always more than meets the eye.
Total Transformation
The new campaign is part of an internal and external transformation of the bonprix label; undertaken by new creative partner Amsterdam based 180 Kingsday, who won the business in a competitive pitch held at the end of 2017. The brief in the pitch was to come up with a strategy to evolve the brand. 180 Kingsday's response was to tackle more than just the advertising side of things, but instead the agency has worked closely with key teams at bonprix throughout brand, e-com and operations to facilitate a transformation throughout the business. The new positioning and strategy is a sea change for the brand and aims to increase its relevance, broaden its reach and build a more consistent and inspiring consumer journey.
Not For Me
The e-com giant has rediscovered its identity by tackling head-on the preconceptions and misconceptions around bonprix – and thus by default its target audience of women over 40. The key insight is that women often think that bonprix is not for them. But when they go on the website they realise that the range is so diverse and the quality of the products is so high, that in fact there always is something that's perfect for them. There's more to bonprix than meets the eye – and the same goes for women over 30.
Alte Mutti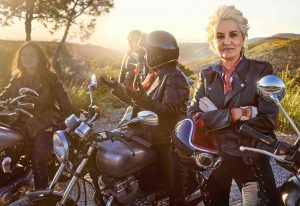 The new campaign proves in an inspiring and joyously irreverent way that women's lives do not stop during their 30's, 40's, 50's and 60's – on the contrary in fact. The campaign features real and authentic women in the middle of life literally shattering the stereotypes around the concept of 'Alte Mutti' – German for old mother and the generalisation of women after they have children. The campaign film takes one of advertising old school methodologies – the vox pop interview – and remixes it into an original song by Amsterdam's Sizzer Music, and a music video featuring real women who are as comfortable in their skins as they are with their identities.
Lars Gerber, Vice President of Global Brand and Communication commented: "As well as their excellent communication ideas, we loved the strong brand and digital expertise 180 Kingsday's enthusiastic, international team offered. Our new brand communication was born from our promise to make fashion for confident women who embrace life and refuse to pretend they're anything other than themselves. The latest campaign exemplifies what's at the very heart of 'bonprix – it's me!' The mischievous tone we've assumed is merely a reflection of how we've gained confidence as a brand and aren't afraid to show it."
Tiina Salzberg, Executive Strategy Director, 180 Kingsday said: "Women are amazing. Complex. Powerful. Brilliant. Beautiful. Quirky. Fascinating. Nurturing. This campaign is a celebration of that and a thank you to women of all types everywhere for being exactly who they are. It's also a great example of the power of 180 thinking: transforming a brand and igniting its organisation behind a strong, clear vision. We're so grateful for the trust and partnership from the team at bonprix."
Kalle Hellzen, Executive Creative Director, 180 Kingsday added: "We could see very early on that there was more than meets the eye to bonprix, its offering and its customers. I feel this campaign lets the world feel the same thing we did. The team at bonprix trusted us to take them to a more provocative, more distinctive space which was so important as that's always where the most interesting things happen."
The integrated campaign includes TV, print, OOH, digital and experiential activities.
Source: 180 Kingsday