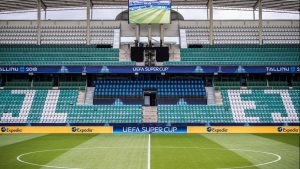 Expedia Group is kicking off an agreement with UEFA to become the Official Travel Partner of the UEFA Champions League. The three-season agreement also includes the UEFA Super Cup, UEFA Youth League Finals and the newly formed UEFA Futsal Champions League Finals until the end of the 2020-2021 season.
Expedia Group's Brand Expedia and Hotels.com will lead the engagement, highlighting the enormous power travel has to connect football fans around the world with Europe's most prestigious club football competition.
Throughout the duration of the sponsorship, Brand Expedia and Hotels.com will deliver a series of brand campaigns and consumer activations to bring the power of travel to life for football fans around the world. The Expedia Group brands will also receive pitch-side placement and television advertising spots during match broadcasts, hospitality events and other exclusive rights as part of the agreement.
Commenting on the agreement, Mark Okerstrom, Expedia Group President and CEO, said: "As the world's travel platform, Expedia Group is excited to be reaching an agreement with the UEFA Champions League, promoting Brand Expedia and Hotels.com. There is no better sport than football to bring fans together around the world to follow their dreams of UEFA Champions League glory, and no better way to make that happen than through the power of travel."
Guy-Laurent Epstein, UEFA Events SA Marketing Director, said: "We are delighted to welcome Expedia Group into the UEFA Champions League partner family. Working with a data driven partner like Expedia Group offers exciting opportunities for us to explore as we look to expand our digital offering. As one of the world's leading travel experts, Expedia Group's experience in this field will be of huge benefit to UEFA and its partners, as we seek to grow the UEFA Champions League around the world."
Source: Expedia Group