Firefly officially launched out of beta on December 6, with a new approach to spur business and revenue by connecting brands, rideshare drivers, and local city governments.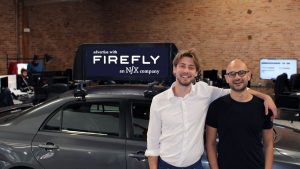 The company, which operates a first of its kind network of "situationally aware" digital  smart screens mounted to existing rideshare vehicles, is already proving to be a win-win business and has attracted a number of Silicon Valley's top venture capitalists and angel investors with $21.5M in Seed Funding led by NFX. Other participants included: Pelion Venture Partners, Decent Capital (Tencent founders), and Jeffrey Housenbold (SoftBank Vision Fund).
Despite the promise of flexible and well-paying work, for many in the gig transportation economy it's a struggle to make ends meet. As the rideshare market has grown increasingly saturated, driver wages have stagnated, meaning longer hours are required to earn a healthy return.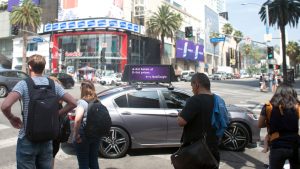 Firefly works directly with these drivers to install its proprietary displays atop their vehicles, turning them into geo-targeted, programmable out-of-home (OOH) advertising stations. Not only does this work to offset wage stagnation across the rideshare economy, but Firefly represents a growing exercise of entrepreneurial freedom from drivers to expand their income beyond that earned directly through ridesharing platforms.
The average driver on Firefly's network generates an additional $300 per month in free cash flow, effectively adding 20 percent more profit to their drive time. The company has been quietly and rapidly scaling in beta over the last year, having driven over 110,000 hours and successfully executing over 50 advertising campaigns.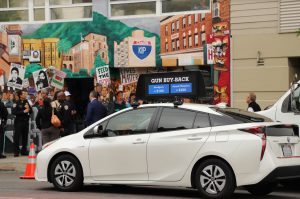 "I have been driving to make money for two years and adding the Firefly opportunity has made it easier to pay university tuition, pay for insurance, and fuel," said Jackeline Arena of San Francisco. "I am a single mom, so any extra income helps me month to month. I really love the company and the Firefly support staff is awesome to work with, which makes the entire process easier. I love being a Firefly driver."
The outdoor advertising market is at an all-time high, with worldwide OOH spend expected to reach $38 billion this year (Zenith). Firefly's proprietary technology delivers the right message at the right time with pin-point geographic accuracy, cutting through the noise of a crowded market and leading to highly effective campaign performance and consumer-engagement. The screens promote national and regional brand advertisers, small businesses and charities while also informing municipal governments with useful data such as clean air and pedestrian movement.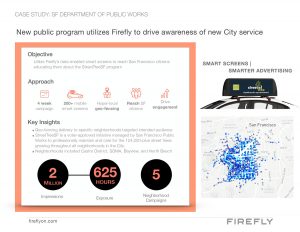 "Firefly is unique because they've built a cutting-edge data platform with a human-oriented approach," said James Currier, Managing Partner at NFX. "Building on a series of network effects in their technology, they have a unique opportunity to positively modernise cities and towns by connecting people, governments and businesses. They can be an important piece in building smarter, safer and more sustainable cities, driving social good at the local level."
Firefly has designed its network with local communities in mind. This means a minimum of 10 percent of all inventory goes to promote and advertise local not-for-profit organisations, public sector PSAs and other non-commercial entities such as charities, advocacy groups, and community organisations.
In partnership with the Coalition of Clean Air, it executed a hybrid campaign around California Clean Air Day. A multifaceted program built on the idea that shared experiences unite people to action to improve community health, Clean Air Day is a statewide effort to make conscious and environmentally-minded choices. Firefly worked with the Coalition in the Los Angeles area, running a 4-week campaign that saw geofenced content in popular neighbourhoods like Downtown LA, Santa Monica, and Hollywood.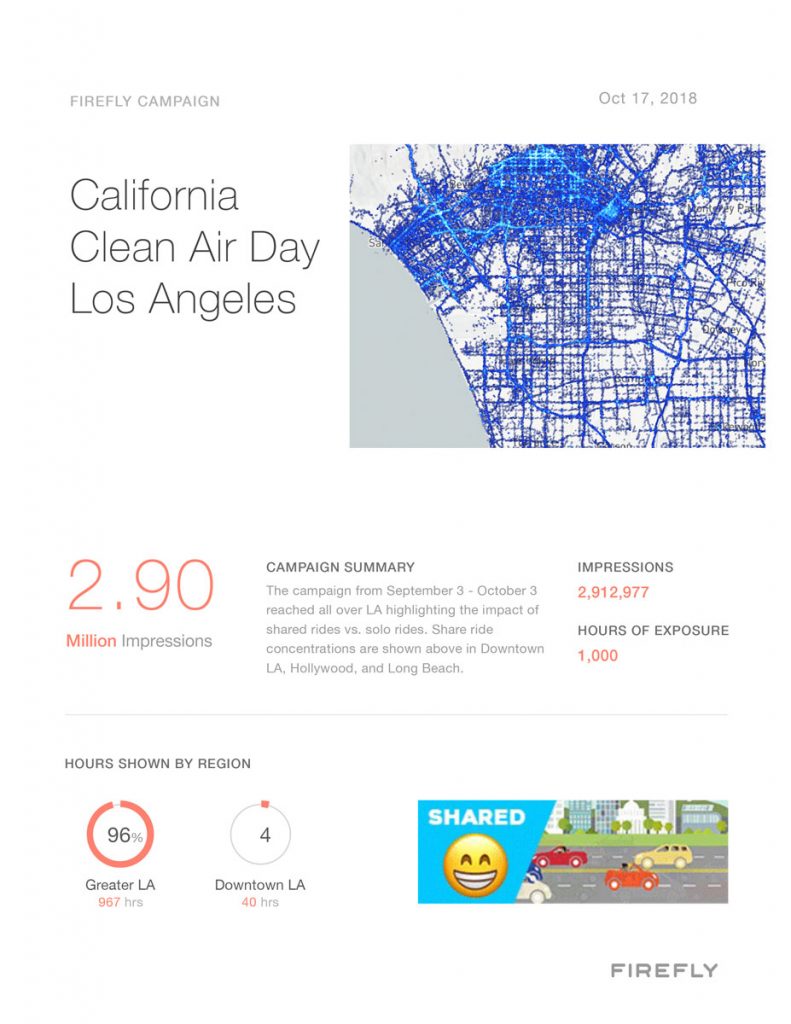 The campaign, which ran only on displays atop hybrid rideshare vehicles and highlighted the environmental benefits of shared rides over solo rides, ultimately received 2.9 million impressions and over 1,000 hours of exposure.
"The Coalition for Clean Air was thrilled to partner with Firefly to spread a vital message promoting shared rides over solo trips for California Clean Air Day," Brian Sheridan, Director of Development, Coalition for Clean Air. "The platform helped us to reach strategic areas of Los Angeles to drive our message. With the benefit of Firefly's donated ads, we were able to make our day of action an even bigger success than ever. We look forward to partnering with Firefly on even more innovative efforts in the future to ensure cleaner air for everyone."
The company works hand in hand with municipal governments to provide information on city mobility conditions and follow best practices in privacy. Its GPS sensors provide granular insight so transportation agencies can make informed decisions and policy.
Additional sensors have the potential to address pressing urban ailments like pollution levels, pavement condition and street lighting. The company has also taken a stand on supporting small businesses such as coffee shops, restaurants, and boutiques by allocating an additional 10 percent of unsold screen time to non-chain small businesses.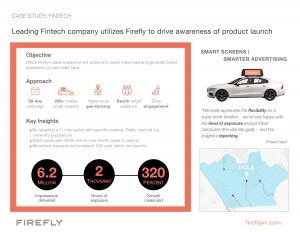 Co-founder and CEO Kaan Gunay spent several years working with Habitat for Humanity, and dedicates time to advocate for refugees of the Syrian civil war. With a commitment to altruism at his core, Gunay launched Firefly out of the passion to build something that benefits the majority, rather than a select few.
"Unlike many other startups, we started Firefly with a community-first mentality — we sought to have community baked into our product, ingrained in the DNA of our company, rather than tacked on as an afterthought" explained Kaan Gunay, co-founder & CEO of Firefly. "To do that, we're working closely with stakeholders from all aspects of urban communities that drive value, wages and insights. With Firefly, we're building a smart city network that works for the city, to better the lives of all of the people that live and work within it."
Source: Firefly