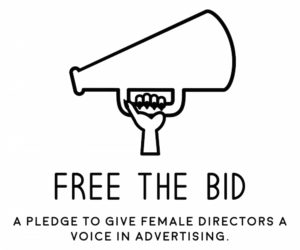 Free The Bid is a non-profit initiative advocating on behalf of women directors for equal opportunities by asking agencies to include a woman director on every triple-bid project, production companies to sign more woman directors, and marketers to seek one woman's bid on each of their commercial productions.
Free The Bid is making a dramatic and unparalleled change in the ad industry's hiring of women directors, contributing to an increase in hires and bidding of female directors of as much as 400% (in cases like CP+B and BBDO). This is in contrast to the numbers of women directors in Hollywood, which despite success stories of record-breaking films like Wonder Woman, have been reducing. Women comprised just 7 percent of all directors working on the 250 highest-grossing domestic releases in 2016, indicating a decline of two percentage points, according to a new report from the Centre for the Study of Women in Television and Film.
Born out of a conversation between PJ Pereira, CCO of Pereira & O'Dell, and award-winning director Alma Har'el, Free The Bid rapidly gained momentum after its launch in September 2016. This historic initiative encourages gender parity in the advertising industry, where less than 7% of directors are women and only 9% of commercials are directed by women.
Early adopters were HP, Visa and eBay. Major brands have pledged including Coca-Cola; Airbnb, who came on board during Cannes Lions International Festival of Creativity; and this week, Free The Bid are proud to announce that Twitter, Levi's and LinkedIn have come on board.
More than 40 agencies are supporting the initiative, including: BBDO Global (who recently made a fiscal pledge), FCB Global, J. Walter Thompson Global, Y&R Global, McCann Global, Pereira & O'Dell, Saatchi & Saatchi LA, Campbell Ewald and DDB.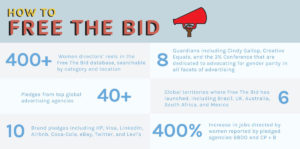 Since making the pledge to Free The Bid last September, the number of women directors invited by BBDO to participate in their bidding process has increased 400%, and the actual number of women directors hired has doubled.
Antonio Lucio, HP Chief Marketing and Communications Officer, named by Forbes as the second most influential CMO in the world in 2017, was an early supporter of Free The Bid. Lucio commented:
"HP was the first sponsor for Free The Bid, and I consider Alma a true pioneer and innovator. We are thrilled to continue to support this essential organization as we work collectively to drive systemic change in our industry. We share a goal with Free the Bid, which is to see more women sitting in the director's chair. Diversity is a business imperative and leads to more authentic and creative outcomes reflective of the communities we serve."
Antonio Lucio's words were supported by his actions. As Free the Bid celebrated its first anniversary, HP presented a 'Business Powered by Diversity' event during Advertising Week New York. Emma Reeves, Free The Bid Executive Director, joined Lucio as he announced that HP would be renewing their fiscal support for Free The Bid for a 2nd consecutive year with a donation, proof of Lucio's commitment to the promotion of diversity in the ad industry workforce by enabling transformation through action.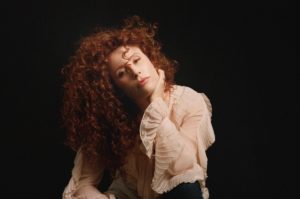 Free The Bid founder Alma Har'el says of the initiative's success and HP's support: "Free The Bid shows that it takes actual commitment to change the ratio. The roots of gender inequality run deep and we are making it easier for people to discover women directors by working together with the whole industry. The drastic change in numbers is a result of many women AND men working together to insure that women directors are given a seat at the table. The support of HP and Antonio Lucio has made it possible for me to take this initiative, which started on my laptop, and expand it from a conversation about Ad land's gender imbalance into a global movement. Now that we're about to venture into our second year, our focus is going to be on increasing the number of women directors of color, and creating opportunities for more brands and ad agencies to implement Free The Bid around the world."
"Since committing to Free the Bid in November 2016, half of our competitive triple bids in film and photography were awarded to women who clearly had the best approach and merit. Free the Bid works!" said Glenn Cole, Creative Co-Chair/ Founder of 72andSunny.
The past year has seen a global rollout of Free The Bid, spearheaded by its Executive Director Emma Reeves, former Creative Director of MOCAtv. In less than a year, the Free The Bid initiative has gone from the US to being launched in Brazil, the UK, South Africa, and announced by Cindy Gallop in Australia, with plans for further expansion of the model into other territories. In each new territory, Free The Bid brings on board a high profile woman director to act as an ambassador, and are thrilled to announce that Kim Gehrig will be Free The Bid's ambassador for the UK.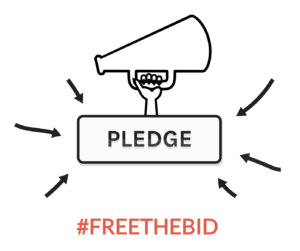 Cindy Gallop, founder & CEO of IfWeRanTheWorld/MakeLoveNotPorn, and former chair BBH New York, said: "I am blown away by everything that Alma Har'el has achieved with FreeTheBid in the space of just one year. Now I want to see FreeTheBid scale to the point where the moment directors begin being discussed for a project, the very first names on the agency team's lips are as much female as male."
The Free The Bid website holds a constantly updated directory of over 400 women directors' reels and is rapidly becoming the number one resource for women directors from around the globe, with editorial content, interviews, and a filterable database, which enables companies to source directors by location and a wide variety of skill sets, soon to include VR and tags for multi-lingual directors.
Free The Bid doesn't expect a woman to win the pitch each time. The philosophy is to get women directors into the mix at the bidding stage, start a dialogue and begin to break old patterns of gender bias. A positive change has been noted by many of the agencies and brands who pledged to Free The Bid in the past year:
FRED & FARID opened their NY offices in January 2016 and noticed that since their pledge to Free The Bid, female directors have been included in the bidding process for 7 out of 8 film production projects. More importantly, this resulted in a female director having been awarded the job on more than 50% of the projects. Michael Fassnacht, CEO & President of FCB, reported that since pledging to Free The Bid, they've included a woman director for consideration in 95% of their production bids, as opposed to only 40% prior to taking the pledge. A woman director was awarded the job on 30% of the projects.
For its one year anniversary, Free The Bid is releasing two videos that celebrate a handful of the countless success stories of directors being discovered through the Free The Bid site:
New York-based director Crystal Moselle, winner of the Sundance Grand Jury Prize for documentary 'The Wolfpack', was an early ally and direct beneficiary of the initiative. As Moselle said during a panel hosted by HP during this year's Cannes Festival: "The week Free the Bid debuted, I'd gotten more calls than I've ever gotten, and it's continued," Recently, her association with Free The Bid helped her land work for big brands such as eBay.
A second video captures LP (Lauren Palmigiano), who was discovered by The New Yorker through the Free The Bid site and invited to direct some of TV's brightest creators, such as Issa Rae and Broad City duo Abbi Jacobsen and Ilana Glazer.
In an interview for Shots Magazine, director Lisa Rubisch of Park Pictures related, "Hire women. But don't hire us because we're women. Hire us because we're good. Hire us not only for yogurt and babies and shampoo and back to school. Hire us also for beer and sneakers and cars and explosions and humor. Free The Bid brings awareness that we are here, we are strong and we are hungry for great work."
Director Molly Schiot, signed with Honor Society, summed up the significance of Free The Bid when she described Free The Bid as being, "the most important step that has been made in my career as a director."
Source:Â Free The Bid