November 7 marks the launch of Gigi Hadid's new line of cosmetics for Maybelline New York via L'Oreal.
The new line makes its debut as part of the unveiling of the recently updated Piccadilly Circus billboard screens, following the lights prolonged shutdown to allow for the technological upgrades. The last time all the lights were out for any prolonged period of time was from 1939 to 1949, when Winston Churchill ordered the blackout. The new curved screen aims to accommodate the demand for displaying higher quality content, boasting a 4K resolution in the familiar patchwork layout and new full-screen layout.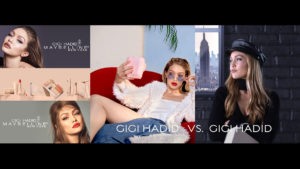 Established in Soho London as the original post boutique, it seemed apt that Smoke & Mirrors where tasked with crafting the VFX for L'Oreal's participation in the historical unveiling.
Commenting on Smoke & Mirrors involvement, Executive Producer James Lamb says, "Producing content for the launch of Gigi Hadid's new product range for Maybelline New York for the new Piccadilly Lights display is the first in an ongoing multi-platform campaign Smoke & Mirrors has been working on for the product launch. The content for the new screen had to be developed within very specific technical guidelines, taking into account not only the new requirements but the nature of how the public receives the content; we focused on creating stunning visuals which would be able to engage a passer-by with immediate impact as well as being memorable."
Smoke & Mirrors CEO Gary adds, "The amount of media channels these days is staggering and creating suitable content always a challenge. Therefore, it's immensely satisfying to be associated with helping to bring one of the world's most iconic advertising platforms right into the modern media landscape. It's also really going to liven up my journey home!"
Source: Smoke & Mirrors