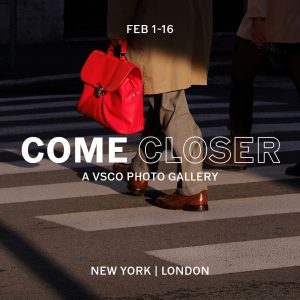 VSCO, the creative channel whose mission is to help everyone fall in love with their own creativity, is asking people around the world to redefine the essence of style.
Come Closer is a movement away from the face of fashion to the soul of style, from the few to the many, from the staged to the spontaneous.
Free for the entire VSCO community until March 1st, VSCO recently launched The Street Style Series via AKQA, a preset pack featuring 3 looks to invite the entire community to reexamine style by capturing a more diverse, honest view of what they see around them. 
VSCO's Style Series Presets:
Style Series 1 – Vibrant Accents

Description: Bright accent colours are often a crucial component of unique style. This preset seeks to boost strong colours even further, while leaving skin tones and milder colours alone.

Style Series 2 – Muted Moments

Description: Style isn't just for the loud and wild; it can be quiet, subtle, in the shadows. With this in mind, Muted Moments imparts an open-toned, minimal colour palette to your image.

Style Series 3 – In the Shadows

Description: Bold doesn't always mean bright. A strong sense of style can be contained in brooding depth. In the Shadows lays the shadows on thick, while preserving natural, unassuming colours.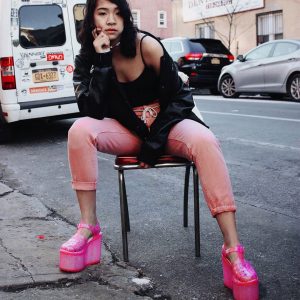 VSCO CMO, Tesa Aragones says: "Come Closer embodies our vision at VSCO — a world where our differences are celebrated. We developed The Street Style Series and pop-up galleries in New York and London to honour the diverse and distinct perspectives we see in the VSCO community."
AKQA Managing Partner Geoff Northcott says: "VSCO empowers their millions of members to not just express, but discover their inherent creativity. This second instalment of the Come Closer exhibitions is a celebration of the passionate VSCO community, and a platform for up-and-coming photographers to reach the world. We couldn't be more excited about partnering with VSCO to create more inspiration for their global creative community."
Select photos from VSCO members will be featured in pop-up Come Closer galleries in New York and London, coinciding with Fashion Week, to both join and broaden the cultural conversation about what style looks like around the world.
VSCO will be opening up the galleries spaces for visitors to create their own style by re-imaging and capturing macro elements of fashion and style using materials inspired by the rule breakers of yesterday and the taste makers of today.
Founded in 2011, VSCO builds creative tools, spaces and connections driven by self-expression. VSCO membership was launched in 2017 helping individuals unlock their creative potential with exclusive tools and content.
Source: AKQA